Along the article, you can also find my favorite tours from GetYourGuide. I use them when I want to uncover new things to do in my selected destinations. They're easy to use and book with and you can cancel every tour up to 24 hours in advance.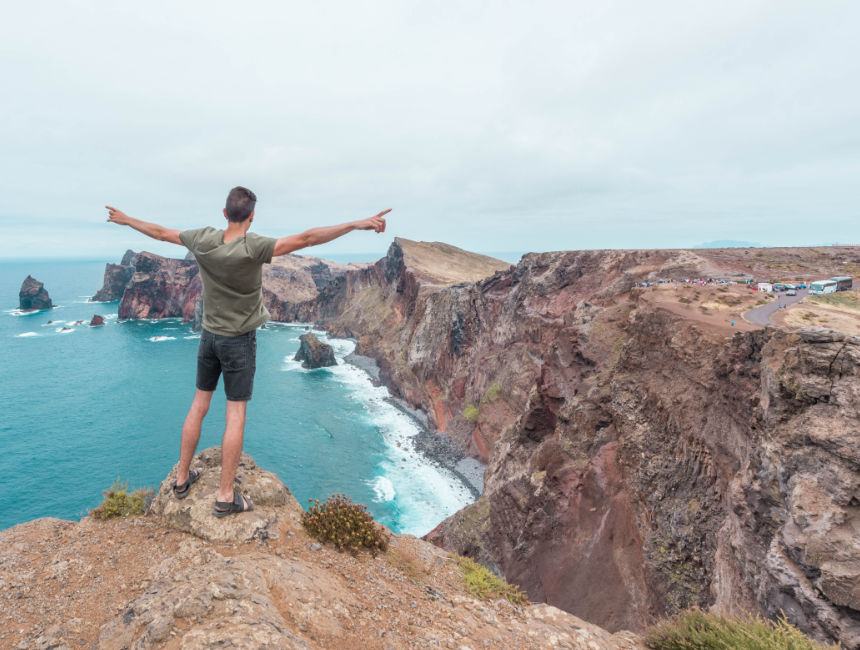 1. Dolphin and whale watching in Madeira
Many marine mammals and beautiful fish call the ocean around this fairytale island home. It would be a shame if you didn't get to know them a little bit better!
With a boat trip you can look out for playful dolphins or majestic whales starting from the port of Funchal. For around €25 to €45 per person, you sail around for two or three hours on the sloshing waves around Madeira. Actually, you have a 100% chance of seeing a group of dolphins. Whales are often slightly less curious, but they are still seen on almost every tour.
It truly is a magical sight when the gray-blue fins appear above the water, and when suddenly a gigantic dolphin jumps out of the water. Usually these animals don't stay alone for long either. During my boat trip I often saw groups of fifty dolphins or more and that really is incredibly impressive.
If you want to make your encounter even more special, you should also swim with the wild dolphins. As the rubber boat slowly sails on, you are taken in tow underwater while the curious dolphins are only too happy to say hello. At one point I saw more than twenty dolphins at barely a few feet from me. And the sounds they make are also fantastic! (here you can watch the video of my swim with these animals)
This is a fantastic experience and I definitely recommend doing this when you go to Madeira.
2. Ponta do Rosto
Madeira is a volcanic island and so there are many dramatic landscapes. One of the most beautiful places in Madeira was Ponta do Rosto. At about a ten minutes drive from the airport, you will find this beautiful headland. Shrouded in all kinds of black, brown and yellow shades (and occasionally a bit of green) this must be one of the most impressive landscapes in Europe.
I recommend going to the 'Miradouro de Ponta do Rosto' first (the viewpoint). From here you get phenomenal vistas over the entire island. Don't be put off by bad weather, because then this place also has something magical about it.
After the fierce winds have ruined your hair on these steep cliffs, I recommend to take the car back and drive along the other side of the headland (the second exit at the roundabout when you return).
From this location you can make a beautiful walk. Along a path of about three kilometers (1,86 miles), you climb and descend from Ponta do Rosto. Your eyes won't know where to look first, because I think this is the most beautiful walk you can do in Madeira. Make sure you have good footwear and a light sweater or coat with you, because you must take on the steep and rocky paths and the wind if you want to explore this gem.
3. Porto Moniz
Although there are some sandy beaches in Madeira, I think you shouldn't skip the natural pools of Porto Moniz. The black lava rocks that have been formed here are full of seawater that has been washed in by (high!) waves. The calm water that remains here is warmed up by the sun and thus provides a perfect place to relax and enjoy the beautiful views.
If you prefer not to swim, you should still visit these natural pools. From a certain viewpoint you even see a real waterfall created because the water flows back from the natural pool towards the sea. This is quite a special place to see in Madeira!
4. Seixal Harbor Beach
Not too far from Porto Moniz you can also find a beautiful sandy beach. Here you won't see the ordinary grains of sand however, because this beach is covered in black hues! These remains of black lava rock provide a very special place where not too many tourists come. From the beach you also get a very nice view on some of the cliffs and rocks of the island and if you are lucky some daredevil surfers are also showing off their best tricks.
5. View of Ilheus da Rib and Ilheus da Janela
If you love spectacular beaches, then you should definitely visit this viewpoint. Unfortunately you will not find a sandy beach here, but one full of boulders. The tourists have clearly set a trend, because the stacked pebbles here stretch for as far as the eye can see.
The most impressive landmark of this place must however be the view over Ilheus da Rib and Ilheus da Janela. These two rocky islands protrude from the wild water like a needle and therefore create a spectacular landscape. From the beach you can take beautiful pictures, but if you climb the rock on the right (there are stairs!), you'll notice immediately that this is one of the most beautiful things to do in Madeira!
6. Museums da Baleia
If there is one museum that you should visit in Madeira, then it is the 'Museu da Baleia' or whale museum.
With the help of authentic objects, a great audio tour, 3D movies and other film fragments you'll learn everything about whales (and dolphins) and whaling.
Until the middle of the twentieth century, commercial hunting for (sperm) whales in the seas around Madeira was one of the main economic influxes for the people of Madeira. A lot of harpoons were thrown at the sperm whales, because valuable fertilizers and cattle feed could be made from their grinded meat and bones. The oil they pressed out of the whale was also used for all kinds of purposes. During World War Two, people even drove around on fuel made out of whales!
If you've left behind the horrific history of whaling, then there is a second exhibition where you learn more about whales and dolphins. The 3D movies here are instructive for young and old, and the life-size statues of the whales show you how gigantic these animals in fact are!
7. Pico do Arieiro
The highest point in Madeira is the Pico do Arieiro. At a height of about 1500m (4921 ft) you can watch out very far over the area from this mountain top. In sunny weather, the view is the most beautiful, but even if there are clouds this place is breathtaking.
The sharp peaks seem to cut through the clouds and provide a very special panorama and one of the most impressive sights of Madeira.
Don't forget to bring an extra coat or sweater with you to these heights! It can get pretty cold here.
8. The 'Waterfall road'
This is one of my favorite things to do in Madeira, but unfortunately you can only get here with a (rental) car (read here how I got a very cheap one).
On the way from Funchal to Porto Moniz you must enter an outdated road that is almost exclusively used by locals. You drive under a cave before you come out on a winding road that leads you along the beautiful coastline of Madeira.
After one of the curves you suddenly see, out of nowhere, a gigantic waterfall that clatters onto the ground.
Be sure to drive under this natural carwash, because this is truly an experience that you can not experience anywhere else in the world! Make sure that your roof and windows are closed, because otherwise you'll be soaking wet in just seconds.
Do you dare to stand under the waterfall too? Definitely do so! The water is wonderfully refreshing!
This top attraction in Madeira isn't really signposted, but you can find this natural beauty on the ER101. If you use Google Map, search for 'Anjos, Ponta do Sol'. This nursing home is located near the waterfall.
9. Cabo Girão Skywalk
The Cabo Girão Skywalk not only offers a beautiful view over Madeira, but it's also an exciting attraction. From this panoramic terrace you can not only look in front of you and beside you, but also below you! The glass platform is dangling a few hundred meters above sea level and therefore it's quite exciting to walk over it. But rest assured: I didn't see any cracks (yet), so I think it's safe!
10. Cristo Rei viewpoint
You don't necessarily have to be religious to come and visit this imposing statue. A gigantic stone Jesus Christ stands here with his arms spread out over Madeira. That in itself is impressive, but the views you get from here are among the most beautiful in Madeira.
Along the right-hand side you can see how steep the cliffs of Madeira can be and along the left, hidden behind sloping flanks full of cacti, you can already see a piece of the Ponta do Rosto, one of the other things to do in Madeira that I've summed up in this article.
If you don't have difficulties climbing up and down, then I definitely recommend to descend the stairs. From the bottom platform you get a very nice panorama over the island and the statue of Cristo Rei.
11. Cable car to Monte
The best panoramic views from Funchal are the ones you get from the cable car to Monte. From the center of Funchal you can make an impressive trip to Monte for €10. Along the way you are lifted up along strong cables while you can enjoy a 360° view over Funchal and the rest of Madeira. The entire journey takes about five minutes. I recommend taking pictures already from inside the vehicle, because the view is a bit hampered by the houses that were built close the the arrival platform in Monte.
12. Monte Palace
Madeira isn't called the flower island for nothing! There are literally dozens of gardens that you can visit, but the most beautiful one must be the Monte Palace. To get here, you can take the cable car from Funchal to Monte, or drive here by car (or public transport).
This large and steep botanical garden is filled with all kinds of strange plant and flower varieties and sometimes it feels a bit like you're walking in a rainforest.
All the way down, a few small waterfalls flow along a beautiful background of azulejos. If you walk down even more, you end up on a very magical spot. From the bottom you get a very nice panorama over Funchal and along the right side you can see the typical Toboggan, where tourists are slid down in a kind of sled.
13. Have a ride on the Toboggan
From the Monte Palace it's only a few minutes walking to where you can go and arrange a Toboggan ride.
In the past, this sled was a typical means of transportation in Madeira to get down faster. Actually it's not much more than a comfortable wicker basket, but it's very exciting to do so! Two beautifully dressed men push you along the steep streets of Madeira and navigate you, about two kilometers, to the final destination. On the way you twist and turn in all directions, but all in all the speed remains well under control.
One person pays €25 for a ride, two people pay €30 and three people pay €45. In total the ride takes about 5 to 10 minutes and on the way you hear the 'drivers' chatting all the time. At the end of the ride you can also buy a photo (on the way there are some photographers, so don't forget to smile!) for €10.
14. The São João Evangelista church
The Sé cathedral is the largest church of Funchal, but if I'm honest I found the Igreja De São João Evangelista even more impressive. The inside is decorated with beautiful carvings, on which a lot of gold is plastered. The altar is equally beautifully decorated and if you also stretch your neck to stare at the ceiling you are completely sold.
If you want to study all the fine artwork of these beautiful scenes, I think you can spend a few hours here! The most beautiful places in Madeira don't always have to be nature, a church with thus many details is really worth a bit of your time as well!
15. Mercado dos Lavradores
Madeira is a tropical island and that means that there are many strange sorts of fruit. What about a combination of a pineapple with a banana, for example? If you want to try these delicious natural sweets, you should definitely visit the Mercado dos Lavradores. Dozens of fruit vendors offer you pieces in the hope that you'll take some of the sweets home with you.
Don't forget to visit the other market as well. There you'll find a fish market. You can see a lot of species of fish, including the specialty of Madeira: the black scabbardfish. Maybe you don't like to eat fish, but this is a must to visit if you like authentic markets.
Be sure to go early enough, because the market vendors are already packing up around noon.
16. Try a glass of Poncha
Since we are talking about food, we also have to talk about a nice drink. Right?!
The poncha is the pride of Madeira. This sweet (but strong!) drink is made from a kind of rum, mixed with (fresh!) orange and lemon juice and sweetened with some honey. You can find them just about anywhere on the island. The price of this alcoholic drink varies between €1.50 to €3.
If you like this sweetness, try the non-traditional ponchas. One with pomegranate instead of oranges, for example.
17. Get lost on the island
There's so much beauty to see on this island that it's actually impossible to list everything. That's why I recommend to rent a car in Madeira and just drive around at your leisure.
Brace your steel steed for the narrow and steep streets, look for beautiful views along the highest roads of the island or uncover the undiscovered natural beauty. There are so many things to do in Madeira and if you want to get the most out of your holiday, then a car is certainly not a bad idea.
Tours and excursions in Maidera
Are you looking for more things to do in Maidera? Or perhaps you want to book an organized tour or a guided round trip? Check out these tours from GetYourGuide. They have plenty things to offer and you can cancel anytime up to 24 hours in advance:
Package deals to Portugal
Are you planning a holiday to Portugal? Then check out these package deals:
Did you like this article? Then please give it 5 stars. Thanks!
In this article you'll find a few affiliate links. When you book something with these travel organizations, I get a small commission. You don't pay anything extra for that. You can thus see it as a way to support this blog if you found the information helpful. I use all of these travel organizations myself, and I will only recommend the ones that I really like.
Are you following me on Social Media?
---
Hi, I'm Sam Van den Haute. The last three years I've been traveling the world almost constantly. Heading out for an adventure and visiting the most beautiful places are what I love to do! Let me inspire you with great stories, beautiful pictures and handy tips from my adventures and travels. On my facebook page and instagram account you'll get to see the latest updates and photos to inspire you for your next vacation.

Come join us and get the latest updates!
Like Checkoutsam on Facebook