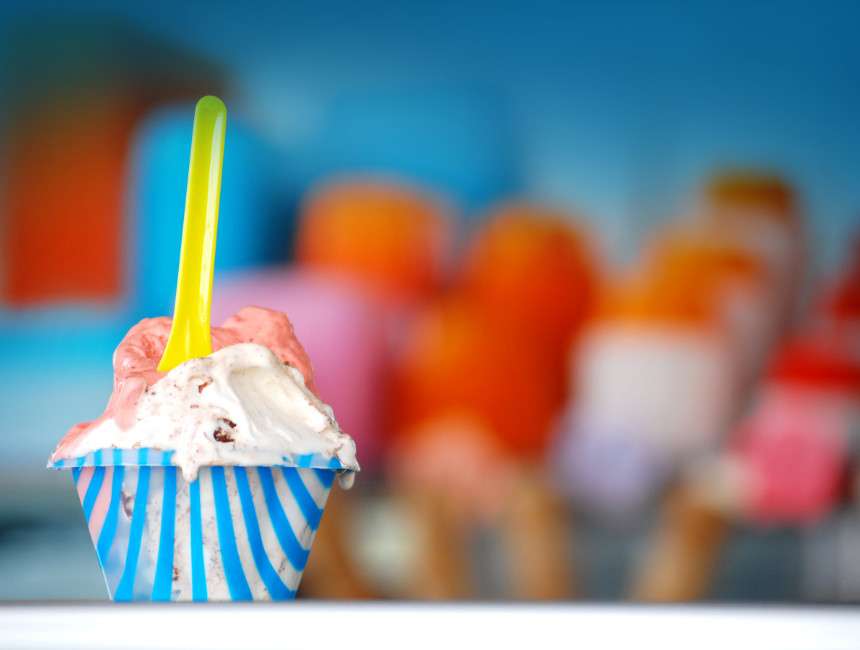 1. Gioliti
Gioliti is located very close to the Italian parliament. And this is undoubtedly one of the best gelaterias of Rome.
The ice cream shop is visible from afar with its large, elegant letters and by the queues that often stand outside.
The inside of this 'ice cream restaurant' is beautiful. Very classic, but nevertheless magnificent.
Besides ice cream you can also taste all kinds of other Italian sweets here.
Although the queues can be long, the waiting times aren't actually that long.
Before your gelato is scooped on a cone or in a cup, you must first go to the checkout to pay. For two flavors you pay €2.50. Three flavors cost €3.50 and for four scoops of ice, you'll spend €4.50.
With your ticket you then must go to the (gigantic!) ice bar where the staff is working hard to serve all ice cream lovers as quickly as possible.
There are dozens of flavors, and making a choice is really difficult. I myself took a scoop with champagne flavor and one with the aroma of white chocolate. Both were incredibly tasty, and I'm sure that all other flavors are at least as tasty.
Address: Via degli Uffici del Vicario, 40, Rome, Italy
2. Fiocco Di Neve
Not so well known by too many tourists, but according to many locals one of the best places to eat gelato in Rome. And that's all for one single reason… The ice cream with the sabayon flavour!
Fiocco Di Neve is an ice cream parlor in a side street of the pantheon and In the small, but cozy, shop there are still a few dozen ice cream flavors, and all are delicious. But the sabayon flavor is, indeed, excellent.
A great combination of sweet and sour and definitely a must if you are in the area.
Address: Via del Pantheon 51, Rome, Italy
3. Old Bridge
Personally, I think the best gelateria in Rome was the tiny 'Old Bridge'. After a tiring tour of the Vatican, you can definitely use some refreshment. And what is better than gelato? Nothing, of course!
At about five minutes from the Vatican Museums you'll find Old Bridge.
You recognize the small business right away because of the long queue, but honestly: it's more than worth the wait.
For €2.50 you get the smallest cup, but whatever size you take: you always get three balls of delicious gelato. (I took the smallest option, and to be honest I thought this was more than enough!)
I myself took walnut, crema and honey and all three were mouth watering.
Unfortunately, there are no benches or tables in the neighborhood, but on a square not far away you can sit down in the grass while enjoying this divine ice cream.
Address: Viale Dei Bastioni di Michelangelo 5, Rome, Italy
4. Venchi
Artisanal chocolate and ice cream… If they have both of these delicacies, you of course know it's going to be okay!
Venchi is located very close to the Trevi fountain and is therefore very touristy.
This is also the most 'fancy' gelateria of this list.
Behind the golden letters of 'Venchi' flows a beautiful chocolate waterfall while the workers put ice cream on cones almost non-stop to please the many hungry tourists.
The ice cream is much more expensive here than in the other ice cream parlors in Rome that I mention, but you also get excellent quality in return. In addition, the portions are very large. You pay € 2.50 for one scoop of ice cream. Two flavors costs € 3.50, three balls of ice are € 4.50 and for another one you spend € 5. Would you like a waffle, whipped cream or chocolate on your ice cream? Then you pay 50 cents extra
Here you pay for the total experience, but even then … The gelato from Venchi is well worth the price!
Address: Via della Croce 25/26, Rome, Italy
5. San Crispino
Another gelateria that isn't very far from the Trevi fountain is 'San Crispino'. This shop is much less crowded than Venchi, and therefore probably also cheaper.
For €2.80 you get two big scoops of ice cream.
Your eyes will not help you too much in this ice cream parlor… All the ice cream is covered with a metal lid, so it's a bit of guesswork if you don't know what you want.
Nevertheless, I can assure that the ice cream is also of top quality here.
I thought the gelato with honey flavor was excellent. So if you don't know what you want right away, I recommend trying it.
Address: Via della Panetteria 42, Rome, Italy
Tips when eating gelato
You can't eat Italian gelato just like that! My tour guide from Rome was only too happy to explain how, like a real Italian, you should eat this delicacy:
Only if you eat gelato in a cone, you can also walk around at the same time.
Are you eating gelato in a cup? Then you have to sit somewhere.
Gelato on a cone and with a spoon? BASTA! This is NOT DONE!
Is there another great gelateria in Rome that I didn't mention? Let me know in a comment!
Gelato tours
Rome is the paradise for lovers of tasty ice cream! You'll find the best gelato in Rome on almost every corner. Are you curious how this ice cream is made? Or would you like to try out more ice cream parlors? Then take a tour that guides you past the culinary highlights of Rome!
» All tours and excursions in Rome
Did you like this article? Then please give it 5 stars. Thanks!
In this article you'll find a few affiliate links. When you book something with these travel organizations, I get a small commission. You don't pay anything extra for that. You can thus see it as a way to support this blog if you found the information helpful. I use all of these travel organizations myself, and I will only recommend the ones that I really like.
Are you following me on Social Media?
---
Hi, I'm Sam Van den Haute. The last three years I've been traveling the world almost constantly. Heading out for an adventure and visiting the most beautiful places are what I love to do! Let me inspire you with great stories, beautiful pictures and handy tips from my adventures and travels. On my facebook page and instagram account you'll get to see the latest updates and photos to inspire you for your next vacation.

Come join us and get the latest updates!
Like Checkoutsam on Facebook