Is it safe to rent a car in Morocco?
This is without a doubt the first question that every potential traveler (and car renter) in Morocco has. You can breathe a sigh of relief, because the answer is: absolutely.
Certainly if you stay away from the big cities like Marrakesh and Casablanca you won't ever feel unsafe on the road.
However, it must be said that some drivers would fit perfectly o, a prairie in the Far West.
When you drive in the cities, you have to be very careful. Road markings are just as useless as binoculars for a blind man, because everyone drives pretty much where he or she wants. It's not as chaotic as in Southeast Asia, but it would help to have nerves of steel. An alert co-pilot is thus always a nice bonus.
Fortunately, the cities are very easy to walk around in and taxis are dirt cheap, so you can always book a hotel outside the city center and park your car there.
In any case, driving outside the cities is wonderful and safe. Morocco has a unique and breathtaking landscape and you can only enjoy it to the fullest with your own rental car in my opinion.
The cost of car hire in Morocco
For a rental car in Morocco you actually won't pay very much. For one week you'll only pay around €100 for the cheapest model. That's not even €15 per day!
For a jeep you pay about €250 for a week or €36 per day.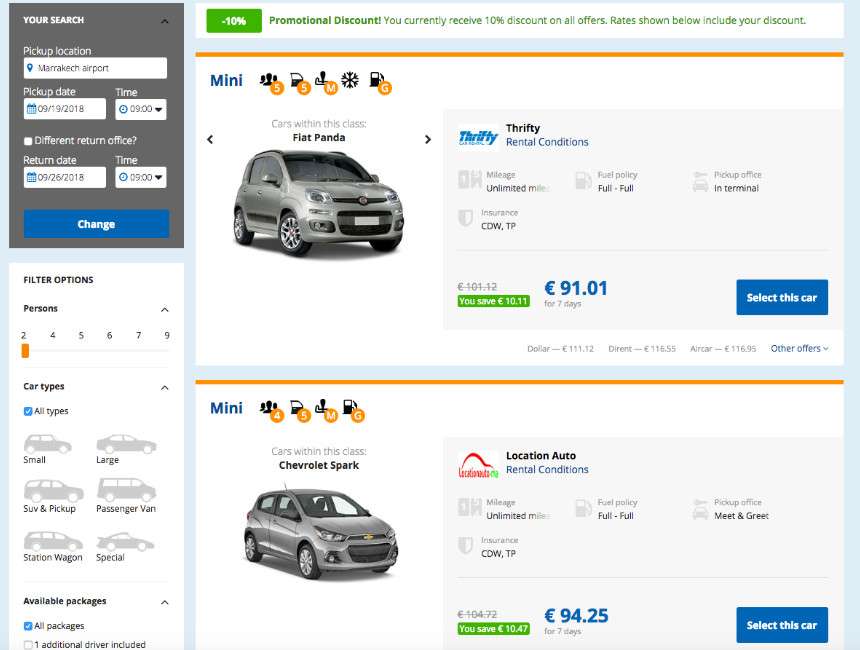 Why would you actually choose for a rental car in Morocco?
The answer on this question actually depends on how long you will stay in this beautiful country.
If you plan to spend a few weeks here and want to explore as much as possible, I can definitely recommend car hire in Morocco. This will not only save you a lot of money (a trip with a private guide and a driver will eventually add up to quite a lot of money…), but it'll also be less frustrating.
If you follow a specific program, you're completely dependent on the company with which you booked the tour. They decide where you stop, eat and stay overnight. After following such a program for three days, I longed for a more varied menu with some different tajines. Morocco has a great kitchen, but excursions almost all stop at the same restaurants where they have a deal.
You can't really complain about the hotels, but if you travel around Morocco for a few weeks, I'm pretty sure that you'll want to enjoy the freedom that a rental car offers you.
If you only go on holiday for a week, you can actually travel around perfectly without a rental car and you can manage fine by booking one or more excursions. Keep in mind, however, that the guide can sometimes be seriously disappointing, and if you have to spend four days or a week with him or her, that'll certainly not be so pleasant. On the other hand, you can also have a great guide and then you'll have a most wonderful time of course!
Anyway, when you rent a car in Morocco, you have so much more freedom, because you can stop where and wherever you want, eat where you want, and well… Just do whatever you want.
Which sights are easier to see by car?
First of all, it must be said that Morocco has an excellent transport network (for Africa). From and to the big cities like Fes and Rabat you can easily travel (and actually for very cheap) by train or bus. Taxis are also affordable in the city.
But in the end you don't just go to Morocco for these (emperor) cities, but also for the magnificent kasbas and its natural beauty. So if you want to admire the famous Aït-Ben-Haddou or the Dades Gorge and Todra Gorge, you should take a bus to the nearest village and from there jump in a taxi to one of these sights (and then get back). The same applies to the great desert of Merzouga. Adventurers who want to climb the imposing Toubkal and travel to Imlil, are also dependent on a grand taxi (which runs outside the city center but only leaves when it is completely full, and I mean very full!).
Another attraction where a car is useful is Chefchaouen: the blue pearl of Morocco.
So if you haveplenty of time, and you rather save money than time, or just want to see the cities, then you can travel around in Morocco perfectly fine with public transport. However, if your time is of more worth to you and you want to get the most out of your trip with complete freedom, then you should opt for car rental in Morocco.
What car should you hire in Morocco?
If you've decided to choose a rental car in Morocco, then you also have to decide what type of car you'll want to drive. This depends mainly on what you are going to do.
Do you want to go to the desert? Then you'll definitely need to rent a 4X4, because you can't (and shouldn't) drive a normal car here. I think this speaks for itself…
Do you want to cross the Atlas Mountains? Then make sure that you have are enough horsepower in your car. Again, a 4X4 might be a good idea, because the mountainous roads are usually not in great condition. (Although this is being heavily worked on.)
If you limit yourself to the cities and kasbahs, an ordinary model can suffice.
And of course it'll also pay off to drive in a minibus if you are with a group!
Traffic rules in Morocco
Moroccans drive on the right side of the road. And of course, you must always use your seatbelt.
Quite important to tell you as well, is that you can absolutely not drink in Morocco, because it's completely forbidden to drive under the influence of alcohol. You can even be arrested and put in jail for this! And I don't think prisons or jails in Morocco have stunning views like the rest of the country does…
As far as speed is concerned, you can drive up to 60 km/h in urban areas and double on motorways (120 km/h if calculus isn't your strongest point). Outside the urban area, including express roads (voie express), you can drive 100 km/h.
If you want to drive faster, keep in mind that the local police are fond of giving fines to a (foreign) Speedy Gonzales. These must often be paid on the spot. Also, pay attention to speeding cameras. There are not a lot, but there are some!
Another thing you have to pay attention to, are animals on the road. It can happen that a camel or sheep suddenly stands in the middle of the way. A cart with a horse is also not out of the ordinary.
Of course, the use of a cell phone behind the steering wheel is also prohibited, regardless of what the locals may do.
Parking in Morocco
The good news is that there are very few places in Morocco where you have to pay to park. These are therefore mostly in the cities. If you have to pay, there is a parking attendant who will come to you and ask for a small fee (often 10 Dirham). The bad news is that this can sometimes be chaotic too. After all, many Moroccans park wherever they want.
My advice: park where there are parking attendants or just park at your hotel to be safe.
Rent a car in Morocco online
If you choose to rent a car in Marrakech or another big city, you'll certainly be able to choose from one of the major car rental companies such as Hertz and Budget. If you want to book with them, I advice you to book (quite a lot) in advance if you don't want to pay too much. Even better is searching directly on comparing websites such as RentCars. These websites immediately bundle all large and small companies so that you automatically get to see the cheapest price and all of the options.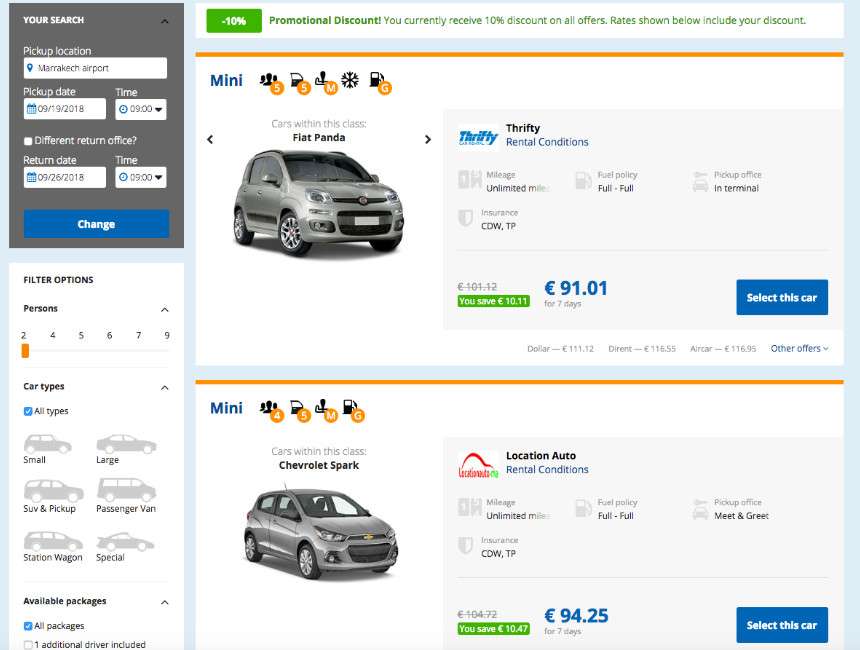 Minimum age for a rental car in Morocco
You must be at least eighteen years old to drive a car in Morocco, although most car rental companies will set the minimum age to 25. Sometimes it is possible (at an additional cost) to rent a car in Morocco as a younger driver. Often it's also expected that you have at least two years of driving experience. Check out the rules of your rental agency before you book, because they often vary per company.
An international driving license is not required for a rental car in Morocco.
Some extra tips when renting a car in Morocco
Some car rental companies don't always have the best intentions and therefore want you to pay as much as possible. So, for example, check carefully whether or not it is contractually determined that you have to pay for cleaning the car, whether one or more drivers are allowed to drive the car and how much the deposit is.
Also pay extra attention to any damage to the vehicle. Be sure to take photos of any scratches in advance, no matter how small and insignificant they may seem!
Also keep in mind that you don't always get the exact car that you have booked. Unless the vehicle looks like it has survived ten wars, it's better not to make a fuzz about it.
Make sure that all the paperwork is in order, because there are a lot of police checks on the roads and the chances are very real that you'll get halted sometimes. Your driving license and proof of insurance are therefore essential.
When returning your car, always check carefully that the "No damage" box is checked. That way, they can't try to trick you afterwards.
Many Moroccans don't speak English very well, but they speak often speak French. Petrol is 'sans plomb' and diesel is 'gazole'. So make sure that you know what type of fuel your car needs.
It can also be very sensible to read the online reviews of a number of car rental companies. This way you immediately know what to expect and which agencies you'd better avoid
And one last golden tip: check whether your fire extinguisher is still valid. Some other tourists told me that the police can give you a fine and on top of that, you(ll have to find a new fire extinguisher on your own.
Car hire in Morocco isn't really something for the untrained driver, but as long as you have confidence in your own driving skills it'll be all right. Just be extra attentive to other drivers and try to avoid driving in cities. Once you are out of town, it's like the wonderful book by Sandro Veronesi: Calm chaos. Enjoy the breathtaking scenery and the freedom you have. Also pay special attention to the regularly occurring holes in the road. As long as you keep all the tips that I mentioned above in mind, the vacation of your life (or at least this year) is waiting for you.
Are you still not convinced of the usefulness of a car? Perhaps renting a camel is another great option!
Did you like this article? Then please give it 5 stars. Thanks!
In this article you'll find a few affiliate links. When you book something with these travel organizations, I get a small commission. You don't pay anything extra for that. You can thus see it as a way to support this blog if you found the information helpful. I use all of these travel organizations myself, and I will only recommend the ones that I really like.
Are you following me on Social Media?
---
Hi, I'm Sam Van den Haute. The last three years I've been traveling the world almost constantly. Heading out for an adventure and visiting the most beautiful places are what I love to do! Let me inspire you with great stories, beautiful pictures and handy tips from my adventures and travels. On my facebook page and instagram account you'll get to see the latest updates and photos to inspire you for your next vacation.

Come join us and get the latest updates!
Like Checkoutsam on Facebook