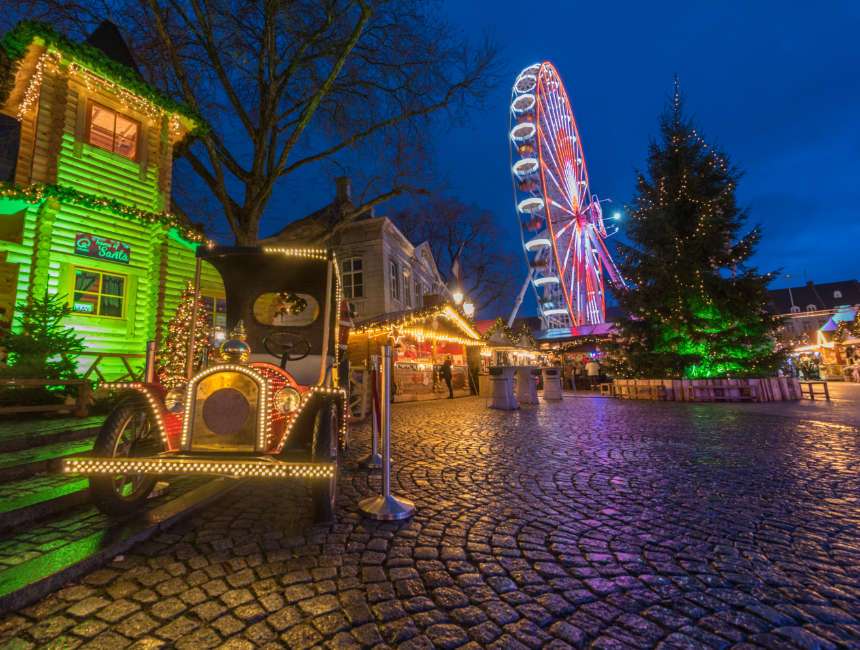 From the station to the inner city the Christmas spirit prevails. In order not to miss a second of all this beauty, I like to show you the most beautiful places of Magic Maastricht!
Christmas market Maastricht
Year after year, the cozy Christmas market in Maastricht is organized at the Vrijthof. This central square is located in the middle of several nice restaurants (with nice warm terraces!) and some of the most beautiful sights of Maastricht. On the other side of the square lies the Basilica of Saint Servaas and the University of Maastricht. Normally these two buildings are already a beautiful view, but during Christmas they get even more spectacular! And that also has to do with the unique panorama that you now get over it.
From the Ferris wheel you can admire everything from up high.
As you slowly spin around in this gigantic attraction, you get a phenomenal view of Magical Maastricht. In the distance you see the cute houses in miniature format and just below you can see all other Christmas activities of Maastricht. Wooden huts that sell all sorts of trinkets and foods, a big skating rink for the daredevils and once it gets darker, the whole city starts to light up because of all the magical Christmas lights.
You will not starve during Christmas in Maastricht. Beignets, churros, escargots (snails!), fries, hot dogs, hamburgers… you name it. Tasty sweet, bitter or sour snacks await you here impatiently. If you would like to take a present home for family and friends, you should definitely take a look at the stalls. Cute chocolate penguins, sticky stroopwafels (a Dutch delicacy. A sort of waffle with a syrup in between. Delicious!) and other edible Christmas presents are also offered at the Christmas Market of Maastricht. If you're busy doing some Christmas shopping, then of course you don't just have to stick to the edible things. Warm sheepskins, wooden toys, silky cuddly toys and shiny Christmas decorations are just some of the nice Christmas presents that I saw here.
To easily shake off all those calories, you can walk around the Christmas market of Maastricht a few extra times, or you can twirl some pirouettes on the big skating rink of Magic Maastricht. From ten o'clock in the morning until eleven o'clock in the evening you can prepare yourself here for the Olympic winter games. Anyone who has only just began learning how to ice skate doesn't need to despair either. Some cute (plastic!) seals ensure that you remain stable on the ice.
For anyone who never wants to forget Maastricht during Christmas there is also the house of Santa Claus. The little ones and the not so little ones can take a photograph with this friendly man from ten to eight o'clock. If you don't like selfies, you can just wander around in one of Santa Claus' rooms! That way you immediately see how he and his elves are carrying and packing all those presents. Pfooh… What a hard job he must have!
Light route of Magical Maastricht
The inviting winter landscape of Maastricht will become even more beautiful when the sun slowly starts to set. Once it gets dark enough, thousands of lights illuminate at the same time and become a breathtaking spectacle throughout the city.
The entire luminous path is several miles long, but you don't have to cover it completely. You can start the light route from wherever you want.
Along the way you'll not only see gleaming light decorations by the way. During this lighted walk you'll also encounter some other sights of Maastricht, such as the Basilica of Saint Servatius, the Dominican bookshop, the beautiful city hall, the inner harbor and the Sint-Janskerk. Of course, the focus of the Magical Maastricht light route is on the unique light installations.
Luminous icicles that seem to melt from the bridges of Maastricht, a gigantic Christmas bauble that is very popular for selfies, big snowballs hanging between the trees … One thing is certain: it won't get boring! Maastricht looks amazing during the Christmas season.
Christmas shopping in Maastricht
Do you want to end your visit to Maastricht during Christmas even better? Then you should also do some Christmas shopping!
The luminous streets of Maastricht are packed with fun, trendy shops or big brands. Do you still need some Christmas presents, or are you still looking for an outfit for Christmas Eve? Then there's -fortunately!- a lot of choice in the shopping streets of Maastricht!
Around the Vrijthof you'll also find the biggest shopping streets of the center, and here you'll never be far away from some nice bargains or discounts. At the Xmas market in Maastricht itself you'll also find some nice stalls where you can buy presents. Just in front of the Sint Servaas Basilica there is a small pop-up shop which only sells Christmas trinkets. Nice clothes, cute dolls, beautiful chocolate figures, snow-spitting chimneys, … Everything that has to do with Christmas can be found here.
Another tip for doing some Christmas shopping in Maastricht is the 'Dominicanen bookstore'. In an old church, a beautiful bookshop is housed, and during the Christmas period it looks even more magical than usual. You can find thousands of books here between the high church towers, and at the back of this bookstore you can also relax or sip from a nice hot chocolate. Christmas shopping can be exhausting, you know!
Christmas markets nearby
With one day in Magic Maastricht you have more than enough time to discover and explore everything. If you're looking forward to visiting some more Christmas markets, you are in luck. Because in the neighborhood of Maastricht there are many other winter markets to see. If you stay in the Netherlands, I can highly recommend Valkenburg. If you cross the border to Belgium you can commute to Liège.
The Christmas market of Valkenburg
It can't get much more unique and magical than the Christmas market of Valkenburg. This city is only a ten minute commute from Maastricht, but it's an absolute world leader in ​​Christmas cosiness.
This city has three impressive Christmas markets and many more activities so that you'll never forget this place. NEVER!
The above-ground Xmas market is not very big, but very cozy. But what matters here are all of the the underground activities.
Valkenburg has many marl caves. During winter they are transformed into cozy underground Christmas markets. The Gemeentegrot is the oldest Xmas market and the Velvet Cave is the longest one. Charming timber stands and stalls seem to fit perfectly together with the stone walls and the constant temperature also makes the visit much more pleasant.
If you would like to plan some other activities besides Christmas markets, I also recommend visiting Mergelrijk during Christmas and certainly not skipping the Christmas parade on Wednesdays and Saturdays.
Want to read more about Christmas in Valkenburg? Read this article with tips, info and beautiful photos.
The Christmas market of Liege
Half an hour from the Dutch border, you'll find the Belgian Liège or Luik.
This city has the oldest and biggest (I really doubt that…) Christmas market of Belgium. From the central station (Liège-Guillemins) it's a long walk to the Christmas village, but once you have arrived you'll be overwhelmed by conviviality and joyful scenes.
Here you'll also find dozens of stalls with winter delicacies such as escargots, beignets, churros, cheese fondue and raclette, meats and lots of gin. But also for those who are not so hungry, you can have a nice time here.
For the children there is an amazing toboggan, and afterwards they can also enjoy themselves on a skating rink a little further. The Christmas market in Liege is perfect to combine with a bit of Christmas shopping, because the many shops in the area often stay open longer during the Christmas period.
You probably already noticed: a visit to Maastricht during Christmas is a great idea! Even if you don't just want to visit Christmas markets, there is more than enough to do in this city.
Did you like this article? Then please give it 5 stars. Thanks!
In this article you'll find a few affiliate links. When you book something with these travel organizations, I get a small commission. You don't pay anything extra for that. You can thus see it as a way to support this blog if you found the information helpful. I use all of these travel organizations myself, and I will only recommend the ones that I really like.
Are you following me on Social Media?
---
Hi, I'm Sam Van den Haute. The last three years I've been traveling the world almost constantly. Heading out for an adventure and visiting the most beautiful places are what I love to do! Let me inspire you with great stories, beautiful pictures and handy tips from my adventures and travels. On my facebook page and instagram account you'll get to see the latest updates and photos to inspire you for your next vacation.

Come join us and get the latest updates!
Like Checkoutsam on Facebook