Malmö is the third largest city in Sweden. Despite the fact that the heart of the city is rather ancient, the small town does have a modern vibe to it and in fact, used to be a part of Denmark. This cozy little city is filled with fun museums, charming neighborhoods and parks, and makes for an ideal shopping spot. With the easy connection and loads to experience, you'll be able to make the most of your day trip from Copenhagen to Malmö.
How to get from Copenhagen to Malmö?
From Copenhagen there are various ways to reach Malmö and vice versa. I will give you an overview of the different options.
The quickest, most comfortable way is by taking the train. The most budget friendly way is to take the bus. For prices and schedules it is best to check out Omio.
Copenhagen to Malmö by bus
The Flixbus from Copenhagen to Malmö is the cheapest way to commute from the one city to the other. It's also a really comfortable way to travel, though it should be noted that it can take at least an hour and a half each way.
You can score a ride on the bus starting from €3,90 to €6 per person. Want to compare Flixbus with other bus companies? You can easily do so through Omio. Here you will also find the different possibilities to take the train.
Point of departure and arrival: Copenhagen Central Station / Malmö Central Station
Price: starting from 3,90 euros per person.
Duration: You'll be en route between one hour and one hour and a half (single trip).
Online booking and travel schedule: Website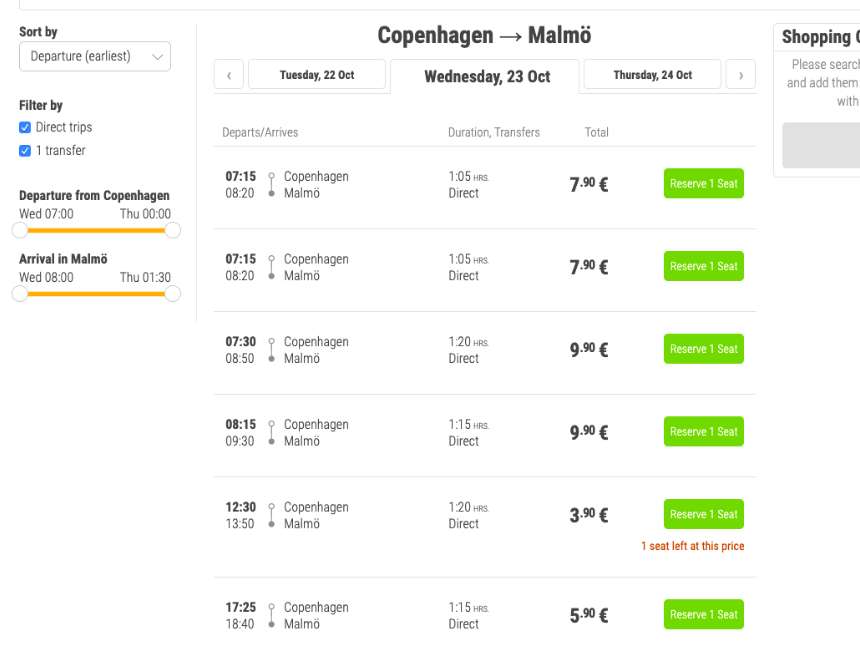 Copenhagen to Malmö by train
This is the quickest and most comfortable mode of transportation. Thanks to the Öresundtag you can reach the center of Malmö in just 39 minutes. This high-speed train also rides on the Sunt Bridge, which serves as a direct connection between both cities.
Every 20 minutes a train leaves from Copenhagen central station to Malmö, and is your best bet if you're on a time crunch.
If you're coming directly from the airport you're in luck, because the train runs even at night. Note that during rush hour the train can get pretty crowded, as many locals from Sweden and Denmark use the train to commute.
For a train ticket from Copenhagen to Malmö you'll pay around €12.
To compare the various trains it is advised to use Omio. Here you can also by the way compare buses as well.
Point of departure and arrival: Copenhagen Central Station / Malmö Central Station
Duration: You'll be on the way for about half an hour (single trip).
Online booking and travel schedule: Website
Taking a Malmö tour from Copenhagen
Not really feeling like planning everything yourself? Then maybe you'd prefer to be shown the most beautiful places by a guide! In this case, you should opt for a Malmö tour from Copenhagen.
This one-day tour includes transportation by minivan, downtime in Malmö and a cruise along the quaint canals in the Swedish city along with coffee and cake.
Point of departure and arrival: City Hall Square Copenhagen (Rådhuspladsen)
Duration: You'll be gone for almost six hours.
Online booking and travel schedule: Website
Copenhagen Malmö by car
Thanks to the Øresund (the famous Öresund bridge which you might know from the hit TV show The Bridge), a car ride from Copenhagen to Malmö only takes 47 minutes. That connection doesn't only serve as a railroad, but also as a highway. The E20 directly leads you to the Swedish city.
If you are traveling by car, you should take into account the additional costs, such as gas and money for parking. You also have to pay toll to use the bridge from Copenhagen to Malmö.
For a single trip by passenger car over the Öresund Bridge you will pay €56. That is also why I don't recommend crossing the border by car if you're on a budget. The bus and train stand as a far cheaper option.
Are you planning on renting a car for multiple days? In that case, making use of the Öresund might be a good idea. For one day you'll pay €65, but for one week barely €100!
It's definitely advised to compare prices with different car rental companies. I myself always find the best deals on websites such as Holidaycars and Sunny Cars which includes all-in insurance.
Important to know:
Do not forget that while traveling from Copenhagen to Malmö you also pass a country border. To be able to do so you therefore have to bring a valid proof of identity.
Oddly enough, the inspectors were giving me a really hard time about my Belgian identity card. When I finally showed them my driver's license, they ended up letting me through. Because of this, I would recommend that you also take an international passport with you. This is also mentioned on the Omio website (where you can buy train tickets from Copenhagen to Malmö), so I do advise to bring it with you to be on the safe side.
Don't have one? Take your driver's license or another proof of identity with you as well to be sure.
Once you've made it to Malmö: what's next?
Swedish Malmö isn't that big of a city, and yet there are a great deal of things to discover. Which makes it perfect for a day trip during your city trip in Copenhagen! Or would you prefer staying a little bit longer? You decide!
What is there to see in Malmö?
When traveling from Copenhagen to Malmö, in any event you cross the Öresund Bridge. This bridge is about 8 kilometers long and this makes it one of the most remarkable sights in this Swedish town.
Copenhagen Malmö by train drops you at the central station of the city. From there it only takes a couple of minutes to reach the old city center.
Stortorget is a really cozy square in the old town and also the perfect spot to grab a drink outside. You'll notice some establishments are much more affordable than others, so choose wisely. The square will lead you to the lovely colorful neighborhood Lilla Torg and to the castle Malmöhus Slot. Do stroll around the cozy Slottsparken and Kungsparken or go sunbathing at Ribersborg Beach. From the beach you also have a great view of the Turning Torse, the turned tower and also the most famous monument in Malmö.
What are good places to go shopping in Malmö?
Shopaholics will have a field day in Malmö. On the Södergatan, one of the most popular shopping streets, you will find a great number of lovely shops filled to the brim with Scandinavian design and cute boutiques, as well as high end shops. Some shops you should definitely pop into are Designtorget and Norrgavel, both offering a really nice design. The shopping mall Triangeln on the other hand is home to all the big fashion chains such as H&M and Zara. If you're interested in playful and cheerful clothing and accessories, be sure to check out Liebling, right outside the city center.
Which museums are worth visiting in Malmö?
Malmö truly is a city where everyone can feel at home, but also for lovers of art. You'll mostly find street art and modern art here.
For the annual Artscape festival international artists have embellished some facades and walls with really beautiful graffiti.
You should definitely browse https://www.artscape.se/ to see where you can admire all their works. In addition you also can go to the museum of modern art, Moderna Museet, where you can marvel at works by Picasso, Dalf and Matisse.
Feeling hungry?
When your belly starts to growl after seeing all those lovely sights, it's time to grab some food. The absolute best place to be is Bastard, an affordable Michelin-star restaurant. The menu changes on a daily basis, offering honest and delicious food. Just think of roasted chicken or a scrumptious pizza.
Has your shopping spree left you with a rather limited budget? Pop into Casual, where you'll find street food such as hamburgers and hot dogs.
After all of these belly pleasing sites, you can head down to Möllevangerstorget, an ancient working-class neighborhood where you can score some refreshing drinks for relatively little cash.
Travel deals to Denmark and Sweden
If you haven't been to Copenhagen or Malmö yet or if you'd like to explore more of these stunning countries, then make sure to check out these travel deals:
Did you like this article? Then please give it 5 stars. Thanks!
In this article you'll find a few affiliate links. When you book something with these travel organizations, I get a small commission. You don't pay anything extra for that. You can thus see it as a way to support this blog if you found the information helpful. I use all of these travel organizations myself, and I will only recommend the ones that I really like.
Are you following me on Social Media?
---
Hi, I'm Sam Van den Haute. The last three years I've been traveling the world almost constantly. Heading out for an adventure and visiting the most beautiful places are what I love to do! Let me inspire you with great stories, beautiful pictures and handy tips from my adventures and travels. On my facebook page and instagram account you'll get to see the latest updates and photos to inspire you for your next vacation.

Come join us and get the latest updates!
Like Checkoutsam on Facebook