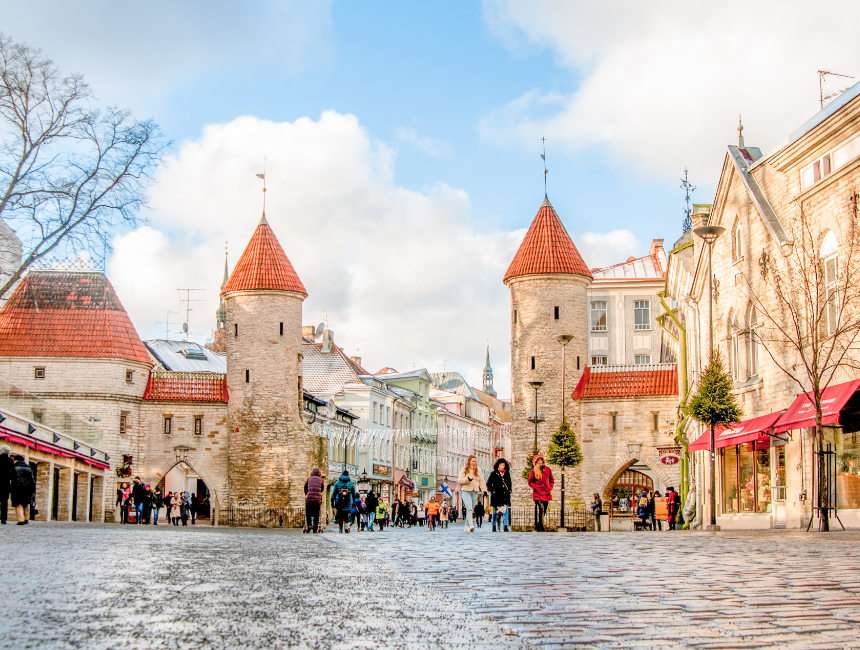 Where to start
First thing's first, you'll want to decide how you plan on traveling for your day trip from Helsinki to Tallinn or vice versa. There are three main options for travel across the beauteous Baltic, the two popular choices being by ferry or inclusive tour, while your third option would be to catch a quick flight. The good news is, Tallinn and Helsinki lie only 50 miles apart across the Baltic Sea, making travel methods for a day trip to Helsinki or Tallinn by air and sea a breeze. Take a look below to see how you can make the most of each of these travel choices.
Traveling by Ferry
When it comes to ferry travel from either starting point, you should keep in mind that there are 3 main ferry companies to go with, all upholding a strong reputation regarding comfort and safety across the Baltic.
Companies and Rates
Tallink Silja Line: An Estonian company boasting the most modern ships, the fastest travel times, which runs trips to and from Helsinki up to 8 times daily. Rates for basic one-way tickets can cost between $33 – $39 USD per person, and become more expensive with add-ons and lounge access.
Eckëro Line: A Finnish line (but didn't we just start?!) All joking aside, this ferry line travels around 3-4 times daily between Helsinki and Tallinn offering lower rates, but with longer crossing time typically. One-way rates are very reasonable with Eckëro however, beginning at around $12 USD and upwards to $39 USD per ticket.
Viking Line: A Finnish operated line running between the two cities 2-3 times per day. One-way rates are typically between $24 – $44 USD per ticket.
It is wise to compare rates and times between each of these ferry lines, and the easiest way to do that is by searching on Direct Ferries or GetYourGuide websites. Also note that there is a "sleeper" option for those looking to cross the sea over a 9-13 hour period and spend the night on the water between their Helsinki to Estonia, or Tallinn to Finland journeys. Take a look at below at crossing times and costs for each way and starting point:
Tallinn to Helsinki ferry schedule
| FERRY LINE | DAY OF WEEK | DEPARTURE | ARRIVAL |
| --- | --- | --- | --- |
| Tallink Silja | Mon-Sun  | 07:30 | 09:30 |
|   |   | 10:30 | 12:30  |
|   |   | 12:30 | 16:00  |
|   |   | 13:30  | 15:30  |
|   |   | 16:30 | 18:30  |
|   |   | 19:30 | 21:30  |
|   |   | 23:30 | 01:30  |
|   |   | 23:30 | 06:00  |
| Viking | Mon-Sun | 07:00 | 09:30 |
|   |   | 17:00 | 19:30 |
| Eckëro | Mon-Sat  | 06:00 | 08:15 |
|   |   | 17:00 | 19:30 |
|   | Mon-Sun | 12:00 | 14:15 |
|   |   | 18:30 | 21:00  |
Helsinki to Tallinn Ferry schedule
| FERRY LINE | DAY OF WEEK | DEPARTURE | ARRIVAL |
| --- | --- | --- | --- |
| Tallink Silja | Mon-Sun  | 07:30 | 09:30 |
| | | 10:30 | 12:30 |
| | | 13:30  | 15:30  |
| | | 16:30 | 18:30  |
| | | 19:30 | 21:30  |
| | | 23:30 | 01:30 |
| Viking | Mon-Sun | 10:30 | 13:00 |
| | | 20:30 | 23:00 |
| | | 20:30 | 06:00  |
| Eckëro | Mon-Sun  | 09:00 | 11:15 |
| | | 15:15 | 17:30 |
| | Sun-Fri | 21:40 | 23:50 |
Remember that prices may vary slightly depending on peak hours and weekends, when they usually tend to rise! Be sure to double check your departure and arrival time when purchasing your tickets. Traveling on the ferry for a day trip from Helsinki to Tallinn may offer more daily crossing times than if you take your day trip from Tallinn to Helsinki, so keep that in mind!
What to expect on the ferry
Comfort all the way! In fact, you can expect quite a lot from your ferry adventure between the two cities. The ferry offers many amenities on board that help make your crossing even more enjoyable, such as a business lounges, luggage storage, bars, restaurants, different shops and supermarkets, and even play rooms for children. Don't worry about becoming too claustrophobic, as many of the ships offer a peaceful viewing longue with large, wide windows overlooking the sea. Access to the lounges may come with additional costs. The interior of most of the lines are very modern and won't fall short of keeping you comfortable and entertained during you journey!
Take notice!
To travel from Tallinn to Helsinki or Helsinki to Tallinn by ferry over waters is still considered crossing country boarders from Estonia to Finland. Sufficient identification such as a passport or residential ID card is a necessity! On the bright side, Estonia and Finland are Schengen border countries, meaning there is a possibility you may not be asked for any ID at all, as there are not always border formalities between Schengen countries. Even so, better safe than sorry, at least you don't need to worry about a visa between the two!
Flying to Tallinn or Helsinki
If you prefer to skip the ferry travel and wish arrive quickly to your destination, it's as simple as hopping on a quick flight. Some would argue that the Helsinki/Tallinn ferry is a more practical choice, but if you're partial to flying, let nothing stop you!
Rates, airports and airlines, oh my!
There are three frequented airlines between Tallinn and Helsinki that leave from both the international airport in Tallinn (TLL) and Helsinki's international airport (HEL). Costs will vary depending on the carrier, season, weekday and time of travel, so be sure to check your airline or compare some prices on SkyScanner before booking. Frequented airlines for routes from Tallinn to Helsinki or Helsinki to Tallinn include:
SAS (Scandinavian Airlines)
FinnAir
airBaltic

Coming from Tallinn
The Tallinn international airport (TLL) is only 20 minutes from the city center and is easily accessible by taxi which should cost around $12 USD. A more wallet friendly option would be to take tram no. 4 for just $3 USD which delivers you directly to the airport. Buses do also go to the airport, and you can take Tallinn city transport bus no. 2 also for about $3 USD and it's even possible to get your ticket on the bus itself.
Coming from Helsinki
Helsinki's city center is just 30-40 minutes from the international airport (HEL). The easiest way to reach the airport would be by train which will cost only around $6.50 USD per person directly to the airport. A taxi is another fast route, but that can cost you upward of $43+ USD. A great option is the No.615 or No.620 bus that run directly there for around $4.50 USD a person. Finnair buses also run, and are able to take you directly to the airport when pre-arranged. Helsinki to Estonia is a well visited route, so finding suitable flight times should be a breeze.
Traveling round-trip on an inclusive tour
Here we have our third travel option; to take an inclusive tour. This option will be available for those who don't have much time to organize or research sights and highlights, but still wish to experience both Tallinn and Helsinki. Take a peek below at a few choices you'll have for an easy-breezy travel experience to either city with round-trip tours.
Taking a tour from Tallinn to Helsinki

Looking for a nice and easy way to enjoy your perfect day trip to Finland's fine capital? In that case, a tour might be just what the doctor ordered! By booking a round-trip tour, you will be able to chose from a simple "hop-over" option, or a trip with activities and guides to navigate you and your group through Helsinki.
My recommendations from Tallinn to Helsinki:
Day trip Ferry to Helsinki, which includes a round-trip Ferry ride which departs from Tallinn on a 2 hour ride in a luxury ferry across the Gulf. This package allows you the most freedom for your journey, granting you 10 hours to explore Helsinki to your heart's desire. For just $36 USD per person, you can secure a comfortable round-trip ferry ride to and from Helsinki, with a cancellation option and the opportunity to beat the crowds and stress of going to the terminals and organizing everything by hand.
The Helsinki Day trip from Tallinn is a great inclusive tour of about 11 hours in total that takes you from Tallinn to the vibrant city of Helsinki on the morning ferry. This trip includes an experienced guide to take you through the city, an audio-guided coach tour, and leisurely time to wander about the local restaurants and attractions before heading back to Tallinn. Your big day tour will only run you around $155 USD per person!
My recommendations from Helsinki to Tallinn:
Return Day trip- Helsinki to Tallinn will provide you with a day trip and more, setting off from Helsinki to Tallinn for a quick 2 hour crossing on the cool and comfortable Tallink Shuttle ferry! Your trip will also include the luxury of "skip the line" passes for monuments and attractions and the freedom to roam Tallinn at your leisure until departure time. Your entire journey will take roughly 11-15 hours all together from Helsinki to Estonia and back, and runs at only $35 per person!

Medieval Tallinn Tour- from Helsinki with Lunch is a lovely inclusive tour which allows you and your friends or family to enjoy an easy guided trip from Helsinki to Tallinn to explore its most historic and medieval sites. Begin your journey with a quick ferry ride to Tallinn, where upon your arrival, your private local guide will navigate you through the old town UNESO Heritage site of Vannalin and its maze of cobblestone walkways. You will continue to discover Tallinn's top attractions by foot and vehicle, such as Kadriorg Park and the Song Festival Grounds. Finally, enjoy a delicious Estonian-style lunch and free time to roam before heading back on the ferry to Helsinki. This package offers a really great way to see and enjoy Tallinn's highlights on a 10-11 hour trip that you won't regret! Tickets will cost around $205 USD per person.

Top organized experiences at your destination
Once you know how much time you want to set aside for your trips in and between Tallinn and Helsinki, you might consider throwing some exciting tours into the mix! Not only will these coordinated experiences help manage your time in the best way possible, but it will also make for fun group activities that you otherwise may not have experienced on your own!
I am personally all for a good tour, and believe it's the perfect opportunity to create experiences that can make your entire trip truly awe-inspiring. This is why I've chosen some of my favorite tour experiences below for you from Helsinki to Tallinn and vice versa to comb through or even combine together for an amazing trip!
My favorite organized experiences in Tallinn
Best of Tallinn 2 Hour Bike Tour is a personal favorite, and phenomenal way to make use of your time in Tallinn and scope out the city's highlights in a fun way. The tour goes through the major attractions in Tallinn and the "old city" area, including the seaside promenade and the Kadriorg Palace! You will be shown around by a local guide and discover the delights of Tallinn while learning about its vibrant history, and even hop-off at some of the nearby beaches! Your ticket includes soft drinks, safety equipment, and your guide all for just $23 USD per person!
A Day trip to Lahemma National Park will be one of those experience that you'll never forget. This becomes exceedingly obvious very quickly as you head toward the natural landscape and pass the unique fishing villages of the national park just 43 miles northeast of Tallinn. This 7 hour total tour includes transportation to and from Lahemma where you will experience and learn about Estonia's native flora, fauna, and rural lifestyle. You will have the chance to explore the seaside, and hike the forest's "beaver trail" with your local guide in either English or Spanish. There is no shortage of beauty to behold at Lahemma, where you can find bays, beaches, forests and waterfalls in abundance. On your way back to Tallinn you will even make a stop to admire the famous Jägala waterfall! This experience will run you $74 USD per person, and is worth every single penny!
Prangli Island Tour is yet another stunning option to explore a cultural area near Tallinn, and gain a more in-depth understanding of the Estonian culture, landscape and wildlife. On this 9 hour tour, you will venture to the mysterious island of Prangli to discover an authentic fishing village of more than 600 years old. Your English speaking guide will take you by boat around the nearby islands of Tallinn on the Baltic Sea. You will then hop on an open-top truck tour of Prangli, where you will have the chance to explore the local shops and sample Estonian cuisine. This beautiful organized tour offers you the freedom to roam, as well as a guide to tell you everything you could ever want to know about this historic island and its inhabitants. Your ticket for this experience only runs at $99 USD per person, and is all inclusive meaning you will be picked up and returned to your hotel, a full day of exploring the island's wonders, landscape and village, and include your ferry, museum tickets and
My favorite organized experiences in Helsinki

A Helsinki Canal Sight-seeing Tour is a great way to drift around Helsinki's many canals and experience shoreline sights, the historic Suomenlinna Maritime Fortress, Helsinki zoo, as well as the fleet of icebreakers in just 90 minutes! Sip on some coffee as you pass the beautiful archipelagos near Helsinki listening to your audio guide, available to you in English, Russian, Finnish or German. This not only allows you to view some of the lesser-seen highlights of Helsinki, but also in a mannerly time span so you can explore more of the city afterwards. This exciting canal tour will only run you $27 USD per person.
The Porvoo Guided Tour is also a great option for a more in-depth exploration of Finnish culture. This 5 hour guided tour will take you from Helsinki to the quaint, idyllic town of Porvoo and down its historic cobblestone paths past its charming village shops. Known for its reflection of medieval past, colorful wooden houses and museum, the village of Porvoo still houses around 50,000 inhabitants to date. Enjoy time to indulge in the boutiques and view the famous cathedral while hearing about the town's unique history. This exciting tour is fun for family groups or those looking for a relaxing day with a bit of history and contrast from Helsinki's modernisms. Well worth your while, this tour will run you $69 US per person.
The Half-day Nuuksio National Park Tour is a personal favorite, an adventure of 5 hours in total that takes you from Helsinki by train to the lush national park of Nuuksio where you will be led on a trek by your guide who is also a professional biologist! Learn in-depth of the area's unique flora and fauna, while viewing its many ancient moss-covered cliffs, small lakes and coniferous forests. Needless to say, your tour will be non-invasive and as environmentally friendly as possible to protect the special features of the area, including the rare Siberian flying squirrel. Trekking along trails whilst soaking in the gorgeous, scenic views of nature in Nuuksio is a relaxing and unforgettable experience. This amazing tour runs for only $40 USD per person.

Pro tip
I always find the best rates for tours and experiences on Get your Guide, which offers great support as well as cancellation support up to 24 hours before your booked activity!
Tallinn vs. Helsinki: Overview's & top beautiful sights
Tallinn
An alluring city that combines old world history with cutting edge technology. Despite what some may think, Estonia's exceedingly historic and photogenic capital didn't land on the map overnight. It has undergone tremendous development from the time it was a merchants' settlement in the 10th century, to its current position as a strong member of both NATO and the EU. This fascinating city in particular has acted as a stronghold for many nations in the past, including the Danish, Swedish, German, Polish and Soviet Union.

An arduous past gave way to a tenacious and progressive future for Tallinn, making it one of Europe's most intriguing cities to explore. You will also have the chance to try some of Estonia's famous beer, or maybe even some Kiluvõileib, a dish unique to the country containing dark bread, egg and a local sauce mix. With such a vast cultural spread one might be led to believe this fairytale land is isolated and left in the stone age. Actually, Tallinn is also known to have one of the world's fastest airport Wi-Fi systems, so don't be afraid to fall out of touch when you decide to hop over from Helsinki to timeless Tallinn. In general, there is no shortage of technology in this historically intertwined city, making it user friendly to visit with tons of popular and beautiful sights.
Tallinn's top sights
Below, you'll find some of the most beautiful sights in Tallinn. Would you like to get more inspiration? Then make sure to also check out this list with 11 things to do in Tallinn.
Old Town & Town Hall Square (Raekoja Plats)
If you're short on time and visiting Tallinn, be sure to make the Old Town one of your top priorities! This town caught in time resembles its former livelihood as it was in the Middle Ages when it acted as the main market place. Lined with restaurants, shops and famous buildings like the gothic Town Hall and Saint Olav's Church, you will stand enamored by its old-timey feel. The mysterious Bastion Passages from the 17th century are also worth checking out in the area! Events are also still staged in the old town, so you may even be lucky enough to catch a show!
Kadriorg Palace & Park
With an extravagant name and bodacious baroque architecture, the palace is sure to do all but disappoint! This former imperial summer home was originally built for Catherine I and was opened by in the year 1725. Embellished with lush gardens, a magnificent park and wonderfully accented by the Kumu Art Museum, you can spend the entire day and then some admiring Kadriorg's luxurious splendor. If you thought you'd be at a loss for luxury when coming from Helsinki to Tallinn, Kadriorg will put you in check!
Seaplane Harbour Museum (Estonian Maritime Museum)
Yes, a museum has in fact made it on the top three best attractions in Tallinn, and with good reason. You will be transported back through Tallinn's exhilarating history and learn about its deep connection with the sea that shaped the city to what it is today. The museum itself is modern but sports many historic seaplane hangers as well as 200+ genuine items, including a submarine and simulators! The museum is great for families and history buffs, and is sure to be a unique and memorable Anyone coming from Helsinki to Tallinn will certainly enjoy seeing the contrasts and similarities of each city's maritime past and present.
Helsinki
Funny enough, Helsinki was originally founded in a different location on the Vantaanjoki River around the year 1550 in order to compete with Tallinn for trade on the Baltic Sea! The town grew slowly however, and was then moved to its current location only in the 1600's. Some say the city resembles a "miniature Saint Petersburg" with its dazzling architecture. Helsinki itself displays many differences to the old Estonian city of Tallinn however. Both cities share abundant views of the sea, but in Helsinki, you will truly feel as if you notice the sea around ever corner, always in view of its many long shorelines. The Finnish city boasts an archipelago of over 300 islands near the city alone! Maritime makes for a huge part of this city's charm and history. As for food you will also be in luck visiting one of Helsinki's many island eateries and Michelin star restaurants.
While holding it's historical aspects dear, Helsinki also struts some of the best fashion and design around, and is known for its modern design heritage and many boutique strewn throughout the city. Another potential bonus of traveling in Helsinki would be the friendly locals who are mostly fluent in English, and whom have been known to help tourists find the best local spots for their short visit. They are actually very likely to direct you to one of the many public saunas, as Finland has a strong sauna culture incorporating both traditional and sleek modern styled saunas!
Helsinki's top sights
Below are three of my favorite sights in Helsinki, but of course there are many more. Check out this list of 11 things to do and see in Helsinki.
Suomenlinna Fortress Islands
Located on a small archipelago just 20 minutes by ferry from Helsinki, lies a UNESCO Heritage site recognized for its historical resonance. Originally built by the Swede's, one of the most notable aspects of the former defense line is that it has hardly changed since the 19th century. Aside from it's locational beauty, the fortress's strategically placed former defense line and historical importance also become obvious as one approaches. There are various walking trails on the small islands that make for an excellent break from the city, as well as many museums and green areas to keep you intrigued.
Helsinki Cathedral
A lovely visit by day or night, this beautiful white cathedral shines bright as one of Helsinki's most recognizable monuments. Originally constructed in the 19th century, the first name for the monument was actually "Saint Nicholas Cathedral" in honor of Tsar Nicholas I of Russia. It wasn't until 1917, after the Finnish gained independence, that the name was then changed to Helsinki Cathedral. Architect lovers will have a ball discovering the small details of nations left behind.
Kaivopuisto Park
One of the most well known and longest standing parks in Helsinki, Kaivopuisto lies right at the tip of the Helsinki Peninsula. Known for having beautiful walking paths lined with old trees, stunning shoreline views as well as villas and famous old residences, the park is a must see for visitors. You can even check out the beloved Ursa Observatory from the year 1926, still used today and located right in the park!
Fun facts about Estonia & Finland
Finland

You'll lake it here a lot
Believe it or not, Finland harbors a total of 187,888 lakes in the country due to previous heavy glaciation in the area which can now be thanked for bestowing Finland with more officially listed lakes than any country in the world (Canada a close runner-up), and almost just as many small islands!
"Supercalifragilisticexpialidocious" won't impress them
Anybody else notice that the Finnish language sounds a little different than most other languages you've heard? It's not just your imagination, "Finnish" actually derives from the "Uralic language branch", the same as that of "Hungarian" and "Estonian", while all other languages in this category are not considered major world languages and are rarely heard outside of the Ural region. That being said, the Finnish language holds the title for the world's longest palindromic word, "saippuakivikauppias", a 19-lettered word for a "lye dealer"!
The perfect spa weekend
Did you know Finland has a crazy in-depth sauna culture? So much so that you can find over 3 million saunas in Finland, both old and new!
Estonia
Swinging wasn't just for the 70's
Something you probably didn't know about this quaint country is its ardent love for swinging… that's right, like on a playground, what else would I mean? In fact, swinging became so popular in Estonia, a competitive sporting spectacle was established called "Kiiking" where one is attached to a 360 degree rotational, giant steel swing!
They read between the lines
Be sure to leave plenty of room in your suitcases, as Estonia has one of the highest literacy rates in the world and at 8% literate, and you are sure to find plenty of bountiful book shops!
Not so religious!
For a country with so many renowned and beautiful churches and cathedrals, Estonia takes the title for being the world's least religious country.
Outstanding hotels for overnights in Tallinn & Helsinki
Whether it be in Tallinn or Helsinki, you may want to take a break and enjoy a night or two in one of these fantastic capitals. Take a look below at some of these amazing stays that are sure to enhance your time in the city.
Accommodation in Tallinn
PK ilmarine Hotel
Located in one of the hippest areas in Tallinn, Kalamaja, you will find a modern, yet charming four-star stay to meet all of your needs. Situated just a short walk from Tallinn's old town, you can enjoy the splendor of the central highlights of the city with an easy get-away back to your comfortable bed at nights end. Rooms typically let for around $94 USD per night.
Oru Hotel
If you're searching for a relaxed area that's perfect for the family, look no further! The Kadriorg area is one of the most laid-back and family friendly areas to catch a good nights rest. The Oru hotel is located near public transport and in the luxurious eastern area of the city which is lined with trees and old estates, giving it a homey feel. There's even a rooftop terrace, and easy access to the shoreline! Rooms run about $80 USD per night.
Original Sokos Hotel Viru
Located right in the middle of it all, you will find easy access to everything at the Sokos Hotel Viru which is simply footsteps away from the historical old town. The hotel is attached to the Viru Centre shopping mall, giving you endless options for shopping and cuisine. Their comfortable and classic northern design style will surely win you over, and can be yours to lavish in starting from $165 USD per night.

Tip for Tallinn's nightlife

Tallinn does indeed boast a wide array of bars, pubs and clubs to chose from, but keep in mind that the city is known to "close down" a bit early, and finding 24-hour food choices is not an always easy task. It is said that finding even a simple burger or kebab can turn into quite a conquest during the early hours between 12:00-3:00 AM, as well as finding a reasonable cab fare. This is true especially if you've come from Helsinki to Tallinn; then you may feel the lack of options to be even more daunting. That being said, don't let this turn you off from exploring the city's exhilarating nightlife, however one would be wise to go properly prepared.
Accommodation in Helsinki
Töölö Towers
A popular "type" of accommodation in Helsinki known as "aparthotels", are comfortable apartment spaces rented out as a hotel spaces. The lovely Töölö Towers is its own wonderful and centrally located aparthotel studio equip with a balcony, giving you plenty of room and even an included breakfast. You can get cozy and feel right at home for around $211 USD per night.
Myö Hostel
Don't be turned off by the word "hostel" in Helsinki, it's actually one of the top preferred choices for overnighters in the city, and holds high expectations in both cleanliness and comfort! Myö Hostel is a stylish, centrally located hostel that offers luggage storage, an open kitchen and many cozy relaxation spaces. A hardy breakfast will be included in your stay, and while dorms are an option, you are able to book a pleasant private room with your own bathroom for just $104 USD per night!
Hotel Helka
Raved about for its phenomenal location and Scandinavian boutique style decor, Hotel Helka is quite the steal. Situated near the main train station, historic city center and shopping and dinning areas, your relaxing stay will be more than convenient. Enjoy an overnight and fabulous included breakfast for around $335 USD per night.

Tip for Helsinki's nightlife

A somewhat expensive yet worthy adventure, Helsinki's many bars and clubs do not disappoint. At first glance, Helsinki may seem primp and withdrawn, but first impressions couldn't be more deceiving in this case. Thanks to Helsinki's unique design culture, you will have a vast selection of laid-back bars, or high end clubs to attend to your every desires. With frequent live music and easy local transport to boot, Helsinki is a great spot to venture into the realm of the night. 
How much time is needed for Tallinn vs. Helsinki?  
There is more to Tallinn than meets the eye. Some say one day is sufficient to see the interesting "old town" of Tallinn, while most people would agree that there's simply no way to spend less than 3 days exploring its intoxicating township. For an in-depth visit to truly experience the big parks, nearby waterfalls, nightlife, sights and cuisine of Tallinn, I would personally recommend taking around 3 days. If however, you are interested in a "taste" of Estonia's vibrant culture and sights, a day trip is certainly sufficient!
The of course, you have our maritime jewel, Helsinki, which is said to need anywhere between 1 and 3 full days. Similar to Tallinn, much of Helsinki can be experienced in a single day thanks to its quick and easy city transport with quick access to the main shopping areas and churches in the city. For an in-depth trip however, which would allow you to see Helsinki's most famous cathedrals, museums, squares and restaurants, as well as the nearby island fortress of Suomenlinna, be sure to take at least 2 full days! A day trip will sufficiently allow you to see the bulk of Helsinki however.
As I'm sure you've gathered by now, Tallinn and Helsinki are really two very different experiences that will compliment each other magnificently, and make for a stellar combo trip. Whether you're beginning your trip in Helsinki or Tallinn, hopping across the Baltic has never been so easy, and there's simply no excuse to pass up a visit to both of these unique and exhilarating destinations!
Did you like this article? Then please give it 5 stars. Thanks!
In this article you'll find a few affiliate links. When you book something with these travel organizations, I get a small commission. You don't pay anything extra for that. You can thus see it as a way to support this blog if you found the information helpful. I use all of these travel organizations myself, and I will only recommend the ones that I really like.
Are you following me on Social Media?
---
Hi, I'm Sam Van den Haute. The last three years I've been traveling the world almost constantly. Heading out for an adventure and visiting the most beautiful places are what I love to do! Let me inspire you with great stories, beautiful pictures and handy tips from my adventures and travels. On my facebook page and instagram account you'll get to see the latest updates and photos to inspire you for your next vacation.

Come join us and get the latest updates!
Like Checkoutsam on Facebook