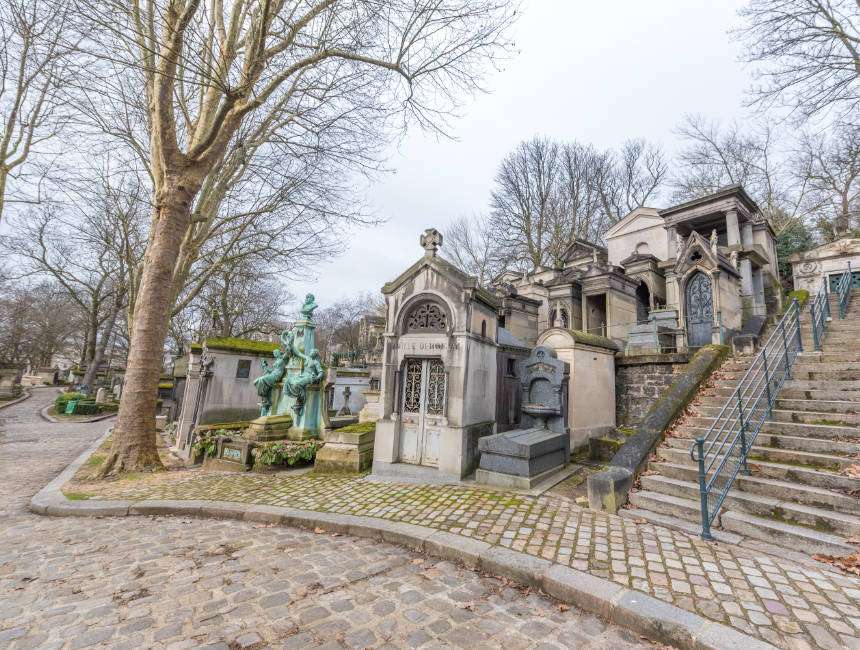 The short history of the Père-Lachaise cemetery
Because of the continuing problems with cemeteries (see also the catacombs of Paris), it was decided in the nineteenth century to build only graveyards outside the city. To make this cemetery particularly attractive to rich Parisians, Alexandre-Théodore Brongniart founded this particular area as an English garden. Still, this didn't help much because the rich didn't like to be buried in a poor neighborhood which, on top of that, was also located way too far from the city center.
Well… How can you make a cemetery more attractive then? Right. You move the remains of some celebrities burried elsewhere to this location! Molière and La Fontaine were disrupted one last time in 1817 and taken to this cemetery. And that clearly had its effect! Because in only a few years time, more than 10,000 graves were added!
The success of this cemetery didn't go unnoticed in other countries. The United States and London started building their graveyards outside the city as well.
The name 'Père-Lachaise' comes from Father François d'Aix de La Chaise. A highly ranked priest who was quite close to King Louis XIV. Before a cemetery was built on this location, there stood a Jesuit house where this man also lived.
By 1850 the Père-Lachaise cemetery had grown no less than five times, and up until today this resting place is a whopping 43.93 hectares.
Famous graves at Père-Lachaise
There are a lot of beautiful tombstones here, but the attention-grabbers are the last resting places of the celebrities. Almost all these graves are protected and are maintained by surviving relatives or devout fans.
Who, what and where? I would like to give you an overview of the most famous graves of Père-Lachaise:
Crypt of the Belgian soldiers 1914 – 1918
At the main entrance (Avenue du Père-Lachaise) you'll immediately find a first grand monument. The crypt and monument for the Belgian soldiers who died in France during the First World War. In 1922, all Belgian soldiers who died in Paris during the war were reburied in this joint grave monument. In total there lie 103 soldiers here. The identity of one soldier is unknown, while the other 102 names are engraved in the monument.
Édith Piaf
Édith Piaf, also known as la Môme, gained fame with songs such as 'La Vie en Rose' and 'Non, je ne regrette rien' and was very popular in Paris and far beyond. After a very eventful life, she died from an internal bleeding at the age of 47. When her best friend, Jean Cocteau, heard this news, the man was so moved that he suffered a heart attack and died. When she was buried at Père-Lachaise, hundreds of thousands of curious people came to give her a final greeting. Due to this mass attendance, the Paris traffic stood completely still.
Oscar Wilde
The name Oscar Wilde will probably ring a bell. This Irish poet and writer wrote several masterpieces, such as "The portrait of Dorian Gray" and "The importance of being Earnest". This literary genius died at the age of 46. Originally, his remains were transferred to the Cimetière de Bagneux; another cemetery in Paris. In 1909, however, he was brought to Père-Lachaise with a newly sculpted tomb. Around the tomb is now a glass security wall to prevent vandalism. The penis of the modern angel was destroyed by young boys. But also the many lipsticks kisses of admirers began to affect the tomb…
Eugène Delacroix
Eugène Delacroix was one of the most famous French painters. His masterpieces were mainly characterized by romance and sometimes he was also called a 'literary painter' because he often was inspired by works from well-known writers such as Dante and Shakespeare. Many of his works (including "The Freedom leads the people") can be seen at the Louvre.
At the age of 65, the man died. Lonely, because a lot of people became more and more critical of his paintings. He was also assigned a place at the famous Père-Lachaise cemetery in Paris.
Molière
Molière must be the best-known playwright and actor in French history. His satirical comedies were a hit with the French people, but also far beyond. Well-known works that you might know are Dom Juan and Tartuffe, among others. In most of his works, he mocked nobles and clergymen. Strangely enough, the Sun King (Louis XIV) liked this about him, and Molière was even allowed to perform in his palace! This celebrity also died relatively young. He was only 51 years old when he became unwell during a performance. He was taken home to rest, but that was of no avail. He died on the spot. Because he ridiculed the clergy class for so long, the archbishop didn't allow him to be buried in sacred earth, but Molière's theater company could fortunately influence the king, so he was eventually buried in the cemetery of St. Joseph.
To make Père-Lachaise more attractive to the rich Parisians, Molière was later re-excavated and moved. Successfully! Because after his move, everyone suddenly wanted to be buried on this famous cemetery …
Jim Morrison
James (Jim) Morrison was the singer of the world famous band 'The Doors'. Besides being a popular singer, he was also extremely fascinated by poetry and literature. He also published some poetry collections himself. This young rock star didn't have it very easy with his stardom and quickly became addicted to all kinds of drugs. The man had problems with the law several times and to avoid further problems (and to concentrate on his writing) he moved to Paris in 1971.
At the age of 27 this pop star died. Perhaps because of the effects of drugs, but that has never really been proven. After a great investigation his body was transferred to the Père-Lachaise cemetery. A beautiful bust was first places on his grave, but that was quickly removed after it was vandalized a couple of times. Because of his early death, this man belongs to the creepy 27 club.
Chopin
Frédéric Chopin was one of the most famous composers in the world. Many people don't know that this man was of Polish origin (Fryderyk Chopin). The man was best known for his beautiful piano concertos. After his first international concert tour, the man couldn't return to Poland, because there were heavy protests against the Russian occupier. That is why he stayed in Paris until his death. There he died of tuberculosis at the age of 39. In Paris he was buried in the Père-Lachaise cemetery under a beautiful, dramatic tombstone. However, his heart was taken back to Warsaw. There it was bricked in a pillar in the Church of the Holy Cross.
Some interesting facts about the Père-Lachaise cemetery
Bloody battles were once fought on this cemetery. During the fight against the Paris Commune, 147 rebels were executed on the spot. You can still see the place where this happened: the mur des Fédérés.
Until 1881 people with different faiths were buried separately here. But that was then abolished. The giant cross standing on the cemetery was also removed, and shortly afterwards a crematorium was built on that exact spot. In this crematorium, the first cremation in France was also being held.
Currently there are more than 69,000 tombs and gravestones to be seen on Père-Lachaise.
If you would like to be buried at Père-Lachaise, you have to be very lucky! The deceased must live in Paris and have died there. In addition, there must also be a place at the cemetery (and the graveyard has already been full since the fifties…). Only when a grave concession expires, you'll have a chance of getting a spot on this monumental graveyard.
Père-Lachaise cemetery tour
Is it worth to book a Père-Lachaise cemetery tour? Personally, I would say yes.
First of all, this necropolis is just too big to find your way to all the graves by yourself. The paths are overlapping and passing criss-cross through each other. They're anything but clear, really…. You can of course try to search for the famous Père-Lachaise graves yourself, but then you need good navigation skills!
On the other hand, I also didn't like that you don't get to know anything about the graveyard during your visit to this cemetery. There is no information (or signposts) about the (known) graves or about the interesting history of this place. With this guide I hope that your visit to Père-Lachaise will be a bit more interesting.
For the price, you shouldn't skip it either, because you can already book a guided tour for €8 per person. There is no entrance fee for this cemetery.
Did you like this article? Then please give it 5 stars. Thanks!
In this article you'll find a few affiliate links. When you book something with these travel organizations, I get a small commission. You don't pay anything extra for that. You can thus see it as a way to support this blog if you found the information helpful. I use all of these travel organizations myself, and I will only recommend the ones that I really like.
Are you following me on Social Media?
---
Hi, I'm Sam Van den Haute. The last three years I've been traveling the world almost constantly. Heading out for an adventure and visiting the most beautiful places are what I love to do! Let me inspire you with great stories, beautiful pictures and handy tips from my adventures and travels. On my facebook page and instagram account you'll get to see the latest updates and photos to inspire you for your next vacation.

Come join us and get the latest updates!
Like Checkoutsam on Facebook