The Red Light District Tour in Amsterdam
During my short city trip to Amsterdam I booked a Red Light District tour, a tour of the 'Walletjes'. During this interesting guided tour we learned a lot more about the prostitutes working in the Red Light District. Of course assisted by a lot of funny anecdotes and stories.
Choose for a small guided tour!
We were asked to meet at a central square, about five minutes walking from the Red Light District of Amsterdam. Because the groups were deliberately kept small during my tour (eight people), there were more than enough opportunities to fire all the questions that we could possibly have on our guide. If you book a Red Light District tour in Amsterdam, then I recommend choosing a smaller tour.
On the way we saw some other guides with groups of more than twenty people. Because of these huge groups, I think you'll miss a lot of the nice stories, and you can't always ask your questions.
In addition, these big swarms are not necessarily cheaper than a smaller tour.
Security in the Red Light District of Amsterdam
This neighborhood has been around for hundreds of years, and although the Red Light District is an incredible tourist attraction, problems with prostitution remain.
Is it legal, or not? The last one hundred and fifty years everything has become legal, but everything is also very regulated. Fortunately, there are few incidents and the police doesn't have to intervene very mucht.
Unfortunately, besides the renowned Red Light District in Amsterdam, there are other places where prostitution occurs as well. These other districts are less regulated, and thus prostitution keeps being a problem in the Dutch capital.
Stories and anecdotes during my tour of the Wallen
Our guide had lived in Amsterdam's 'red neighborhood' for several years. She even knew some ex-whores or people who worked in this district. In other words, she was perfectly suited to guide people through the winding red lights!
To break the ice, our talkative guide started with a nice anecdote:
Once upon a time, a young man had come to this tour with his mother. As if that was not awkward enough, he had been whispering to her during the tour that he was feeling a little excited about all the female attention he got.
The loving mother thought that this was completely normal behaviour and thus decided to give her little sweetheart fifty euros.
Twenty minutes later he returned, broadly smiling, and again joined the tour as if nothing had happened.
During our tour there was luckily (or regrettably?) nobody who went offroad to see one of the charming ladies.
Interesting facts
During our journey through the 'Wallen' we received many more anecdotes, but even more interesting facts and stories. Curious as I am, I continued to ask questions. You don't get to see an expert in prostitution every day!
Curious what you can expect during a tour of the Red Light District? Here are some of the most interesting facts I heard:
Did you know that all women who are behind the windows have to buy or rent their window if they want to work here? Here, there are no pimps that arrange everything for them. The mostly Romanian and Eastern European women are therefore quite independent! If the women don't like someone (appearance, character or whatever.) They may even refuse them!
After crossing the main street, we also went to the side streets. There you will find a section with transsexuals and many other fetishes.
For the transsexuals, the following rule applies: If you don't touch them before everything becomes clear, you can still ask your money back. There are always some "lost" souls that come here. You can recognize the transsexual neighborhood by the blue lights that are in front of their windows. It's also known as the 'blue light district'.
The windows in the side streets are generally a lot more expensive to rent or buy than the main street. Why? Just because you, as a customer, have more privacy. After all, there are many more tourists on the main street and no-one wants to walk into family or friends when visiting one of these ladies…
Besides prostitutes you will find a lot of other things in the Red Light District of Amsterdam! Think of peep shows and even theatrical shows with live performances.
If you're going to visit this red light district you might not think about it, but prostitutes are now a regulated profession. That means that they must be self-employed and pay taxes.
You will even see a special accounting office for these lovely ladies. There are even some kind of social unions that take care of the interests of street daisies.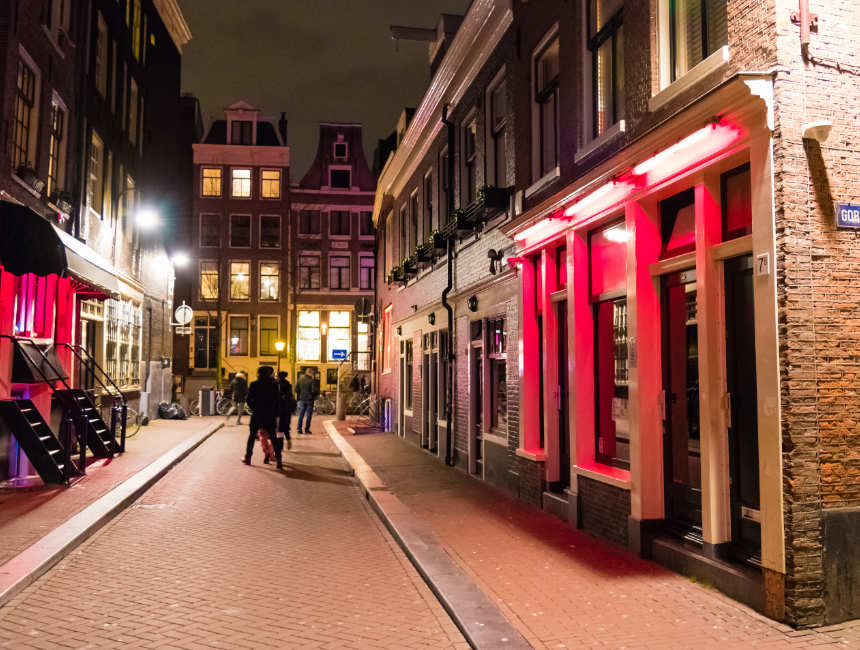 Are there men in the Red Light District of Amsterdam?
In the Amsterdam Red Light District, i's immediately apparent that only women are behind their illuminated windows. There are no men that prostitute themselves here. Most people think that the reason for this is that a man can not perform enough on one night, but that's not the case!
Several years ago there were four men standing behind the windows. In total, each had about three to four customers on one evening. Not that bad!
After one night, the men never returned to their brand new workplace however…
Of course, people found this strange and began to ask them questions. The answer they received over and over again was pretty funny… The men felt intimidated by the women!
How they were precisely intimidated they never wanted to tell. But one thing is certain: Women really rule the Red Light Distict!
'Live performances' in the Red Light District
During your Red Light District tour in Amsterdam you will not only see cheerfully lit windows. During a trip through this district you'll also see a lot of coffee shops (no, no coffee is sold here! All kinds of weed, hash and mushrooms are!). Even more interesting are the peep shows, SM clubs, live performance theatershows and… Hospitals ?!
The 'Hospital Bar'
To soften small and large issues, there are houses decorated as hospitals. Equipped with white nurse uniforms there are willing ladies who would like to help the men in finding the right solution to their problem…
In order to enter such a hospital you shouldn't of course be sick for real. It's more about the sexual fantasy of having sex with a nurse.
The Hospital Bar in Amsterdam costs you €25 per person, and you get one drink for that too. Would you like an individual check-up by one of the nurses? Then you have to pay extra for that.
The 'Casa Rosso Theater'
If you don't immediately want to go full on, but just want a little sneak peek, I recommend going to a peep show or theater show. The peep shows are quietly getting out of fashion, but the live performance theatrical shows are, to say the least, impressive!
After a few beers, a friend and I decided to pay the expensive entrance fee to take a look.
There is a very large selection of these theaters in Amsterdam, but we chose the most famous one: the Casa Rosso.
The big pink elephant (which you see very often in the Red Light District of Amsterdam) welcomed us with its flashing LED lights.
After paying we were made some rules clear: don't whistle and of course don't touch any of the ladies.
The inside of this theater is surprisingly beautiful and authentic. It seems like you enter a theater hall in the 1950s. The little room is nice and when the curtains of the stage are pushed open, it becomes even more intimate!
The bar is upstairs, but feel free to just sit down without any drinks. There is always a bartender walking around between the acts to serve you during this unique theater experience.
What do you see?
The scenes are alternated every time. After a stripping woman, there is usually a sex scene. Either it's between a man and woman, either between two women (and possibly another man).
So that you won't miss a thing, the bed is designed to constantly rotate while the couples are having live sex.
After about 10 minutes the curtains slide back, and the visitors clap civilized, as if it were visiting a Broadway musical.
Every now and then there is also a lap dance for one of the paying customers. When that happens, there are a lot of hands flailing eagerly in the sky, but unfortunately only one man is selected at a time.
While the woman makes lascivious movements on the man's lap, two bodyguards are strictly watching if the man doesn't let go too much. It must, of course, remain 'dignified'
For the Casa Rosso theater in Amsterdam you pay €55 per person and for this price you also get two drinks. You can stay as long as you want, but you will always be asked to order a drink. The sweating 'actors' need to get paid too, you know?!
Red light District tour in Amsterdam: Ticketss
You see, there is a lot more to tell about the red light district than you would think at first sight!
If you're in Amsterdam, it's definitely a good idea to arrange a tour. This was without a doubt the most interesting time I've ever had in Amsterdam!
» All Red Light District tours in Amsterdam
Did you like this article? Then please give it 5 stars. Thanks!
In this article you'll find a few affiliate links. When you book something with these travel organizations, I get a small commission. You don't pay anything extra for that. You can thus see it as a way to support this blog if you found the information helpful. I use all of these travel organizations myself, and I will only recommend the ones that I really like.
Are you following me on Social Media?
---
Hi, I'm Sam Van den Haute. The last three years I've been traveling the world almost constantly. Heading out for an adventure and visiting the most beautiful places are what I love to do! Let me inspire you with great stories, beautiful pictures and handy tips from my adventures and travels. On my facebook page and instagram account you'll get to see the latest updates and photos to inspire you for your next vacation.

Come join us and get the latest updates!
Like Checkoutsam on Facebook