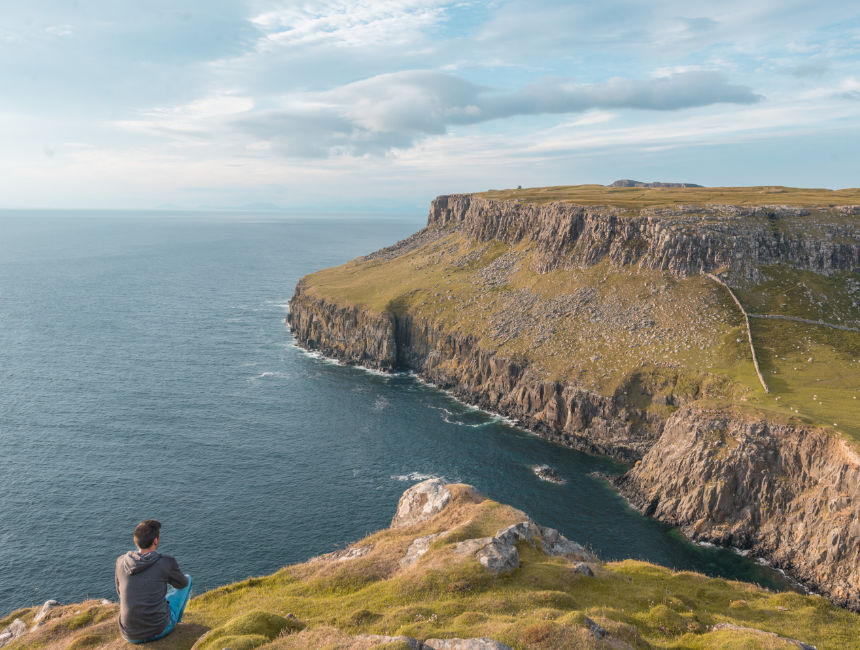 The perfect Scotland itinerary with a car
If you want to organize a road trip through Scotland, I think it's best to do so with a car. You can visit everything at your own pace, see exactly what you want to see, start the day and end when you feel like it and it'll also be very cheap. You can rent a rental car with complete insurance in Scotland from €80 per week.
Of course you can also reach Scotland with your own transport, but know that you'll lose a lot of time on the ferry and that the airline tickets to Scotland aren't so expensive either.
If you want to take a lot of (camping) stuff or multiple passengers, or if you have have seas of time, then a ferry to Scotland is also a fun adventure.
You can of course also plan your Scotland itinerary with the help of public transport. However, I would personally not do this, because outside the big cities public transport is rather limited.
There are a few long-distance buses, but they aren't going to that many places and they don't make any stopovers along the way. Moreover, the most beautiful sights are usually far away from these routes and it would take a lot of time and planning to get there by public transport.
If your holiday time is limited, I thus really recommend to rent a car when visiting Scotland.
Planning your Scotland itinerary yourself
If you don't want to be bound by schedules or if you can't find an organized tour to your liking? Then you can of course also plan everything yourself.
It requires more preparation, but usually it's also cheaper and so you can see and do exactly what you want.
Here I will give you some tips to plan your road trip through Scotland.
Cheap flights to Scotland
From Europe there are many airlines that fly to Edinburgh or Glasgow. If you're a bit flexible with your data, you can already book a return flight for €25 per person! Dirt cheap, if you ask me.
Car hire in Scotland or the ferry with your own car?
If you are traveling to Scotland, I think you should organize a road trip. Whether that is with your own car or a rental car is what you have to decide yourself, but I think a rental car is cheaper (especially in combination with a cheap flight).
Car hire in Scotland
Renting a car in Scotland can be dirt cheap if you book a little in advance.
I am a big fan of Sunnycars, because this price comparison website often has nice prices and there is also an all-in insurance included in their final price.
An economy model is definitely more than enough to conquer the Scottish roads. All roads in Scotland are well maintained, and some streets are quite narrow so it can actually be an advantage to have a small car here. An insurance is also a good idea, because the wild roaming sheep and lots of pebbles can possibly cause damage to your rental car.
At the time of writing there are even cars for rent (with all-in insurance included) for €186 per week. That is barely €26.5 per day.
With your own car on the ferry
Are you more confident about your own car, or do you have to carry a lot of stuff or perhaps you are traveling to Scotland with a bus full of passengers? Then a visit to Scotland with your own car might be a better idea.
From the mainland of Europe, there are several options to get there. You can board a ferry from France, Belgium or Germany to get to England. From there, you'll have to drive for a few hours until you reach Scotland.
The crossing costs about €200 to €300 and takes between 10 to 15 hours. During this long boat trip you will get a (simple) double room on the boat where you can rest.
Hotels in Scotland or wild camping?
Whether you have taken the plane or the ferry, if you are in Scotland you should of course also be able to sleep.
In Scotland you have the choice to book a hotel or youth hostel, or to go wild camping.
Hotels are of course the most expensive option. On average they start at €45 a night.
A youth hostel is a lot cheaper. With a bit of luck you can already book one for €15 per night per person.
Prices and availability of accommodations can be checked on:
But did you know that you can also stay overnight in Scotland for free as well? In many areas of Scotland you can set up your tent free of charge. You will however need good camping equipment! But honestly: the feeling you get when you unzip your tent in the beautiful nature of Scotland is indescribable! 
Make sure you have a good tent (and earplugs!), Because it can get very windy and rain very hard in Scotland.
Book excursions or tours?
Have you decided to stay in one city or are you afraid to drive yourself? Then of course you can always book (multi-day) excursions or tours. Moreover, you have to book these for certain trips. Just think of a boat trip on Loch Ness.
When I look for tickets or tours, I always check out these websites:
My itinerary for Scotland (9 days)
Here you can check out my Scotland itinerary which I followed during my 9 day trip of this beautiful country. Sometimes the days seem to be a bit full (or not), but I always had more than enough time to check everything off the list.
Keep in mind that I sometimes took quite long walks or photo stops. There is so much beauty to see on the way that I am sure that you will too.
Day 1: Arrival in Edinburgh
Your holiday to Scotland begins. Yipee!
Try to book an early flight to Edinburgh (or Glasgow, which isn't too far from Edinburgh). This way you can start your Scottish adventure from day one. There is more than enough to see in Edinburgh, so you can certainly use all the time you have.
Day 2: exploring Edinburgh
After a hearty breakfast (definitely go to 'Polentoni', one of the best breakfasts I ever had!), you can explore charming Edinburgh even further.
Let your calves do the heavy work and climb all the way up to the famous Edinburgh Castle. From here you get fantastic views over the rest of the city. For a nice view of the castle itself, I recommend to chill in the 'Princes Street Gardens': a beautiful park in the valley.
Actually, the whole city is beautiful and you should therefore explore all of it, but one thing that you shouldn't skip is the (heavy) hike in the Holyrood park to Arthur's seat. The steep climb in this gigantic city park gives you beautiful views over Edinburgh, but it is mainly the nature that is very beautiful here. The best views over Edinburgh are in fact at Calton Hill.
Day 3: Queensferry, Pitlochry, Loch Morlich and Inverness
It's time to leave the Scottish capital and move on to the Scottish Highlands. Today you will be in the car for a few hours, but along the way you will pass several beautiful locations. Make sure to stop in Queensferry, a small but cozy town that is characterized by a gigantic (and beautiful!) bridge. From there you can drive on to Pitlochry, a super cute village that is very Scottish. During your road trip, the landscapes will now begin to become very beautiful as well, but believe me: they will become even more beautiful!
Possibly you can also visit Blair Castle, but I found the landscapes around this area even more beautiful than this castle.
From now on, the views get incredibly beautiful. Enjoy the fantastic nature and make stops now and then. The hilly green landscapes, laced with beautiful rivers are truly breathtaking.
One of the most beautiful lochs (lakes) I saw in Scotland must be Loch Morlich. This vast lake is surrounded by thousands of pine trees and a beautiful mountainous backdrop. It seems like you're in Canada!
Once you have spent some time gazing at the beautiful environment, it's time to drive to your accommodation (or set up your tent, Loch Morlich is the perfect place for that!). A nice place to end your day is Inverness. The largest city of the Highlands. Here you can eat well, do a bit of sightseeing and you are also really close to Loch Ness.
Day 4: Loch Ness, Eilean Donan Castle and arrival on Isle of Skye
The most beautiful part of your road trip through Scotland is only just beginning.
In the morning you can enjoy the beautiful views of Loch Ness and perhaps even spend some time in the Urquhart Castle, another breathtaking fortress of Scotland. However, keep on the lookout for Nessie. After all, a photo of this monster wouldn't look out of place in a photo album!
If you're crazy about the beautiful castles of Scotland, then you certainly can't skip Eilean Donan. This is even my personal favorite. This fantastic building stands in the middle of a beautiful environment.
From here it's a half hour drive to the Isle of Skye, one of the most beautiful places in Scotland. You have more than enough time to discover this wonderful environment. Definitely go to the Fairy Pools. A magical place with wonderful waterfalls.
Depending on your time and love for Scottish castles, you can also visit the Dunvegan Castle. But if you prefer to stay around the Fairy Pools for a little longer, then I can not blame you for that.
Day 5: Neist Point, Quirrang and Kilt Roch
Are you leaving from Dunvegan, the Fairy Pools or have you already drove to Neist Point? Whatever you do, you can't skip this place. The views from here are truly breathtaking. Descend this fantastic location and climb the cliffs for some of the best views of the Isle of Skye. Be amazed by the hundreds of sheep that graze on the steep cliffs here just as if they were mountain goats.
Another fantastic location for walking enthusiasts is Quirrang. The road here is full of bends, but the landscapes are already breathtakingly beautiful. The views only really start to be amazing once you reach the top.
Have your legs worked enough for today? Then you should crawl back into the car and make one last stop at Kilt Roch. From this panoramic viewpoint you get a nice view of this special rock formation.
This day isn't so busy and it could well be that you have a lot of time left. Maybe you can also visit a whiskey distillery today. But be responsible if you still have to drive…
Day 6: Old Man of Storr and Loch Coruisk
Today will be a mix between walking (not to say climbing) and driving a car.
The Old Man of Storr is definitely one of the most beautiful sights in Scotland. At first glance the ascent doesn't seem very steep, but don't be fooled! Take plenty of water -and maybe even some food- with you and take it easy. Don't give up too quickly, because the view from the top is really fantastic!
From the Old Man of Storr you can relax for several hours until you reach Elgol. From here you can arrange a boat towards Loch Coruisk. This is one of the most beautiful lakes in Scotland and you also have a great chance of seeing whales, dolphins or seals on the way. Check in advance if the boats sail, because in bad weather (which tends to happen in Scotland…) the boats do not sail out!
Once you get back to Elgol, you can say goodbye to the Isle of Skye. From Armadale you can take the ferry to Mallaig. But book in advance! Because when the ferry is full you have to make a big detour towards the Skye bridge.
Day 7: Glenfinnan, Fort William, Glen Coe and Loch Lomond
From the quiet Isle of Skye you now return to the slightly busier Glenfinnan. Here you can see the steam train of Harry Potter pass by in person. Around Fort William and Glen Coe there are plenty of beautiful hikes and walks that you can do. In Fort William you can also find the highest mountain in Scotland: the Ben Nevis. Do you dare to climb it? We had dinner in Fort William at the Ben Nevis Inn, at the foot of this high mountain. Highly recommended if you like good (and local) food.
You can stay here for a bit, or slowly drive back towards Loch Lomond. During this last part of your road trip tour through Scotland you'll get to see some fantastic landscapes. Park your car on the side of the road now and then! Stay overnight in Loch Lomond or continue on to Glasgow right away.
In the surroundings of Loch Lomond there are also some fantastic walks and hikes that you can do.
Day 8: Explore Glasgow
You can spend your last day in the largest city of Scotland.
This artful city is completely different from Edinburgh and is more reminiscent of a big city. There are many beautiful museums here that you can discover, and the nightlife isn't bad either.
The Glasgow Cathedral is certainly worth a visit, and the cemetery behind it is also very beautiful. If you are a big fan of museums, then I think the Kelvingrove Art Gallery and Museum is definitely worth some of your time. I especially liked the natural history part of the museum!
For the rest you can also enjoy good food and good shopping. The perfect ending for your trip through Scotland!
Day 9: From Glasgow to Edinburgh airport and back home
Enjoy a nice breakfast in Glasgow (I can highly recommend 'The Wilson Street Pantry') and continue to Edinburgh Airport. Unfortunately it's already your last day in Scotland and you have to go back home. But I hope you have at least made some beautiful memories in Scotland!
A few more tips for your road trip through Scotland
Don't be put off by driving on the left. The first day is sometimes a little confusing, but as long as you drive carefully, it is anything but difficult. Focus on the driver in front of you and adapt accordingly. Don't forget that without a car you have much less freedom and you can visit a lot less.
Bring sufficient clothing. Scotland would never be so green if it didn't rain so much. In fact, all four seasons in one day are perfectly possible. So make sure you also have waterproof clothes. Oh yeah, and don't forget your hiking shoes!
Don't worry about an international passport if you come from the EU. You can enter the country with an identity card from the European Union.
Consider wild camping. You can wildcamp anywhere in Scotland. If you can camp your entire vacation for free, you'll ultimately save a nice amount with which you can do other things.
Make lots of stops. The landscapes in Scotland seem to change every minute. It is therefore logical that you should do ample car stops. Don't just stick to the must-see's but also stop at random stops near the road. There is so much to discover!
I already went to Scotland twice. The first time I focused way too much on the cities. Although they are certainly charming, it is mainly the nature of Scotland that makes the country so attractive. Make use of my daily schedule or adjust it as you want, I am sure that you, like me, will absolutely love Scotland.
Did you like this article? Then please give it 5 stars. Thanks!
In this article you'll find a few affiliate links. When you book something with these travel organizations, I get a small commission. You don't pay anything extra for that. You can thus see it as a way to support this blog if you found the information helpful. I use all of these travel organizations myself, and I will only recommend the ones that I really like.
Are you following me on Social Media?
---
Hi, I'm Sam Van den Haute. The last three years I've been traveling the world almost constantly. Heading out for an adventure and visiting the most beautiful places are what I love to do! Let me inspire you with great stories, beautiful pictures and handy tips from my adventures and travels. On my facebook page and instagram account you'll get to see the latest updates and photos to inspire you for your next vacation.

Come join us and get the latest updates!
Like Checkoutsam on Facebook