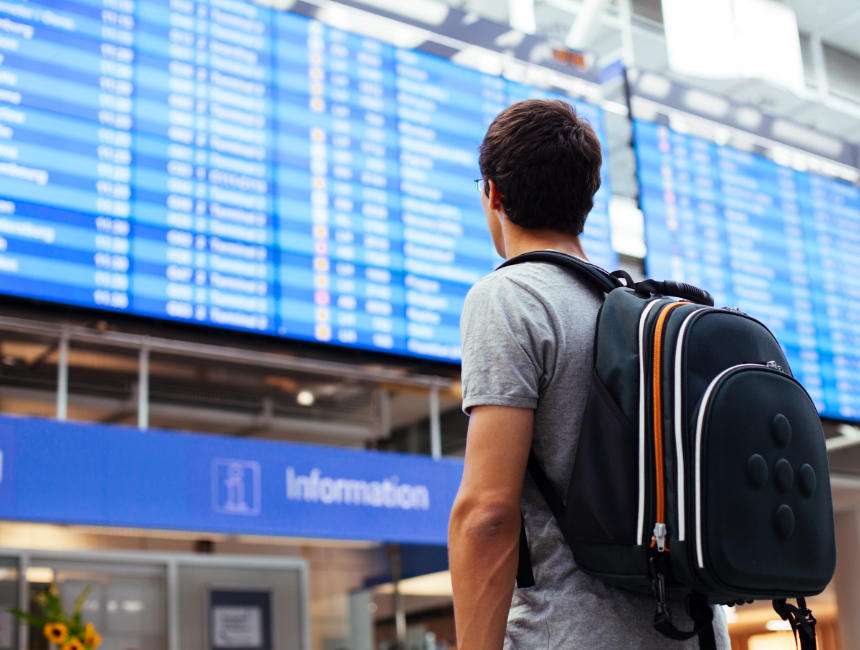 How do you plan a solo trip?
Did you make the decision not to wait for company and to just leave on vacation alone? Congratulations, taking the step to travel alone is one that will change your life. Undoubtedly you still have a lot of questions about how exactly you're going to organize all of this. Perhaps the most important question will be: "How do I plan my solo trip?" Here are some steps that can help you on your way.
Choose your destination
The truth is, that the experience of travelling alone will be more important than the destination itself. If you're not used to travelling by yourself, you're already taking a step outside your comfort zone. So you better make sure that your destination is one that you feel comfortable with. Whether it's a weekend to a place where you've been before with your family or friends, where you know what to expect, a country where you speak the language, or a popular tourist destination where you're far from the only solo traveler. A little further on I would like to give you some suggestions of destinations that are ideal to go on holiday alone.
You can of course also look at the places that I've already visited.
Convincing your family
Although you're mature and sensible enough to be responsible for your own decisions, you'll surely have to convince and reassure your family in a certain way. This is one of the most difficult issues that everyone who goes travelling alone is faced with. The most important thing is that you already have a plan for your trip before you inform your family. Telling them that you are only going on a solo trip, but not knowing how or what, will undoubtedly make them sceptical. Carefully explain your plans and answer all their questions with confidence.
Preparing for your trip: how do I get there and where will I stay?
Now that your parents and family are reassured, it's your turn. In order to ensure that you don't have sleepless nights, it's important to prepare your trip well. This preparation starts with booking your flights and your (first) overnight stays. Make sure you arrive at your destination well before sundown and get to know where your accommodation is. That way you make sure that you don't need to drag your luggage through a dark an unknown place. Doing your research well will give you a lot of confidence when travelling alone so that you become less dependent of others.
Don't forget to check if you need a visa or travel passport in advance!
By the way, a visa is not the same as an identity card! It may seem logical to most of us, but I personally know people who didn't know the difference and faced major problems at the airport…
Make sure everything fits in your backpack
During the entire journey you'll have to carry your luggage yourself. Bringing a single backpack with you when you travel alone is a lot more convenient than having to find your way with different trolleys in hand. Pack as light as possible and avoid taking valuables with you. That way you can already be a lot less worried about possible theft. Take a diary with you, in which you can write down your experiences. Perhaps also take a good book to save you from the lonely moments (like during dinner).
When I had no experience yet with traveling alone, I used to take a giant backpack with me. Meanwhile, my stuff has already been halved, and I still notice every time that I take too many items with me!
Plan socially, but also have enough rest
In youth hostels you rarely feel alone. You'll always be surrounded by nice people with the same mindset as you. Are you really fond of your privacy? Book a private room in your hostel, so you benefit from socializing but you still have the chance to escape if you feel like it.
It's in fact not a bad idea to sometimes book a private room. Youth hostels can be very tiring. It's more difficult than you think to say 'no' to a fun night out!
Keep in touch with home
Keeping in touch with your friends and family is a good way to avoid feeling lonely while traveling solo. Nowadays every hotel has free Wi-Fi and with the help of social media there are enough ways to keep in touch. The same social media are just as useful for posting your travel photos or asking for tips.
Trust yourself
Although one of the goals of going on vacation alone is to step outside your comfort zone and explore the world on your own, it's important to always trust on your own judgment. Are you in an accommodation with a strange owner who gives you the creeps? Eating in a restaurant that isn't particularly hygienic? Or are you in a location where you don't feel comfortable at all? Make sure you get out of that situation as quickly as possible.
When travelling by yourself you'll already hear enough interesting stories from fellow travellers. And probably you might also have some to tell of yourself! At that particular moment it's perhaps not so pleasant, but later you'll just laugh with it.
What are the best places to travel alone?
My first solo trip was to Los Angeles, and I also stayed there for a year (and afterwards another year!). That is probably a bit long for a first time traveling by yourself… My second solo holiday was in Southeast Asia and because of my earlier experience this adventure was somewhat easier.
No matter how you twist or turn it, not all places are ideal to travel alone. Especially when it's the first time that you go on holiday a holiday on your own. Therefore it's important to choose a good destination. Here are some nice cities and countries to discover alone.
Barcelona, ​​Spain
European cities are among the easiest places to go and travel alone. They are therefore an ideal introduction for those who want to travel solo. Barcelona is a very good choice if you want a taste of going on a vacation alone. Not only are there many attractions to fill your day, but you also have the wonderful beaches. In addition, the Spanish culture is very welcoming and it won't be long before you share a plate of tapas with some new friends.
Copenhagen, Denmark
Copenhagen may not be the most appealing destination, but it is a very nice one. It's known as the bicycle city of Europe and this is also the best way to explore the city. If you'd rather save your legs, you can also use the metro network.
South Island, New Zealand
Ask every experienced traveler which nationalities are among the nicest people on our planet, and you'll get the Kiwis as an answer. New Zealand obviously has a very friendly population, but also has a lot to offer as a country. If you're adventurous, you can go bungee jumping, skydiving, wild water rafting or even head to some of the many national parks. The country has something to offer for everyone and is easy to explore for travellers who are traveling on their own for the first time.
Thailand
Actually I should mention the whole of Southeast Asia, but I immediately picked the most popular place to travel alone to. Thailand is one of the most chosen destinations among backpackers who go on a solo holiday for the first time. Not only is the country very budget-friendly, but you also have lot of activities and beautiful beaches that easily fill your days. And all of that can be done while meeting a new culture. In addition, it's very easy to make new friends as there are a lot of other solo travellers around.
Australia
Another popular travel destination for solo travellers is Australia. If you're travelling by yourself, why not explore a complete continent? Australia has all the features of a great destination: from wonderful beaches to lively cities such as Sydney and Melbourne. Learn to dive in the Great Barrier reef or explore new horizons in the Australian outback. In addition, Aussies are very friendly people and it won't take long to make new friends.
How do you meet other travellers / people?
A solo journey doesn't necessarily mean that you're going on a lonely journey. You may have stepped on the plane all on your own, but there are a lot of like-minded solo travellers and local people with whom you can plan something together. Here I give you some tips on how you can easily get to know other travellers and people.
Talk to fellow passengers
The first tip is one that you can use immediately when you board the plane. Talk to the people sitting next to you while traveling. You often already know what their destination is, so you can immediately ask them what their plans are.
Use Airbnb or coach surfing
Anyone staying in a large hotel chain will have a slightly harder time being sociable. If you use Airbnb or a coach surfing location you'll get to know a local. Your host can also help you to explore the city. Such accommodations are therefore very useful for people travelling alone.
Go and discover
Don't stay in your hotel room or hang out online on Skype or social media all the time. After all, you haven't booked a plane ticket to see nothing. Go out and explore the city. It is also the best way to meet new people.
Suggest taking a photo of someone
When you stroll through the streets of a city on your own, it can be difficult to contact other travellers. Go see the many sights and if you see someone with a camera, spontaneously ask if you can take a picture of her/him. It's an easy way to start a conversation and you can eventually ask for their further plans.
Listen to your native language
Another thing to do when you're walking alone through the streets while travelling by yourself is to listen to your mother tongue. You're certainly not the only traveller of your country at your destination. Listen carefully for your native tongue and if you hear it: start a conversation!
And if you don't hear anyone speaking your language, chances are that you speak English as well.
Book a group activity
Going on vacation alone doen't necessarily mean that you have to do everything alone. A group activity or excursion can be a useful way to get to know new friends. This can range from a free city walk to a multi-day trek. Many participants in group activities are backpackers, and most of them are (very) social creatures!
Take a look at websites such as GetYourGuide or Viator to find great tours and excursions. You can always book some tours on the spot as well.
Use apps or the internet
If the traditional ways of getting to know new people at your destination don't seem to work for you, then you can still use the advantages of the digital age. Nowadays you can find a lot of websites where you can search for like-minded travellers who are at your destination at the same time. A good website for meeting people abroad is meetup.com. In addition, you can always download apps like travbuddy on your smartphone to make new contacts while traveling solo.
How do you make photos when travelling alone?
Traveling alone is a unique experience. An experience where you should take lots and lots of pictures from. When you take photos while traveling solo, you should also have some with yourself on. Otherwise, the photos of the sights you have seen don't differ too much from those on the internet. Taking photos of yourself when you're on vacation alone can be a challenge. One that I want to help you with.
Ask a bystander
The first way is immediately the easiest way. If you're in a busy place, you can simply ask a random tourist or a local to take a photo of you. This also helps to get to know new people. Or, who knows, you've already met another solo traveler from whom you can regularly request a photo.
The selfie stick
Those who are having their first solo adventure in a less touristy area will need to put more effort into photographing themselves. Luckily, nowadays we have the selfie stick that makes things a lot easier! Always make sure if selfie sticks are allowed. In some cities (or amusement parks, disney for example!) they're already banned.
Video screenshot
Those who want to kill two birds with one stone can make videos of themselves while diving with dolphins or swimming in a hot spring. From those movies you can easily take screenshots of the parts where you look at your best. That way you don't only have a video of yourself while traveling solo, but you also suddenly have an unlimited number of photos.
Timed photos
Another classic method of taking photos of yourself when you are alone on vacation is with a timed photo. Almost every camera has a function where the photo is taken only after an x number of seconds. Time enough to pose for the perfect shot. The advantage is that your full body is completely on it. You only need a tripod or a stable place to put your camera on. Those who don't have a timer function on their smartphone will find plenty of apps that can help.
Random body parts
An original photo of yourself while you're traveling alone doesn't necessarily have to be a selfie with your face on. How about snapping a pic of your legs while sunbathing on a beautiful beach? Or a photo of your hand while holding an ice cream in a beautiful setting? Not only is it much more original but also a whole lot more convenient to take.
With a remote control
A GoPro is a very popular way to capture photos and videos of your solo journeys. But did you know that there is also a remote control for this (or any other) camera? You place the GoPro in the perfect place, make sure you're framed in the picture, and with one simple click on the remote control you'll have the perfect photo.
Some tips to make your holiday more enjoyable
You often hear that going on a solo adventure can make you feel lonely on the road after a while. And honestly… That's the truth. Even I felt uncomfortable in the beginning when I sat in a restaurant all by myself. Or after a busy day, when you get back to your hotel room all alone. Yet these are things that take some time getting used to, and after a while you'll even start to enjoy these solo moments. Here are some tips to ensure that your 'me-time' is more enjoyable.
Blend in
Don't be a tourist in the city or destination where you're travelling alone to. If you're going to drink something in the evening, sit at the bar. Not only are bartenders very social people, but the bar is also the place where most solo travellers can be found. That way you might even get to know some other people.
Remember that you may never see all those people again
When you're alone at a restaurant and you feel a bit uncomfortable, remember that you won't see anyone around you ever again. And even if you still become friends with someone, they won't talk about that time when you were sitting uncomfortably in a restaurant.
Prepare your journey well
Travelling by yourself is quite exciting. But if you don't want to get uncomfortable while travelling, you should prepare your trip well. Proper preparation provides extra confidence and will make you feel a lot more comfortable while traveling solo.
Stay in hostels
Are you traveling on your own, but with the intention of getting to know new people? Then staying in a hostel is a good opportunity to get to know new friends. After all, in hostels there are plenty of backpackers who are also alone and who are probably looking for a new friend too.
Make eye contact and smile
It's very simple and you don't harm anyone. Make eye contact and smile to the people around you. They won't only appreciate that, but it's also an effective way to get to know new people.
Bring a book
While you are sitting in a restaurant and eating a delicious pasta or steak, you often have nothing to do when you are on holiday alone. A solution to this problem can be to bring a good book or a notebook. If you pay attention to it, you'll notice that many people do this. And… Did you ever consider it as strange? I doubt it! So take a book with you, and stop being uncomfortable!
Google Maps
Whoever is afraid of getting lost while traveling solo has never heard of Google Maps. Nowadays you can check maps anywhere and anytime and never have to worry again. Before you leave your accommodation, take one of the business cards with the address and telephone number and you should be all right.
Did you know that you can also download Google Maps offline? You do this by pressing settings (the three horizontal lines on the left of your screen) and then go on to 'offline maps'. Then at the bottom, press 'Download an offline map – Custom map' and then indicate the area that you would like to download offline on your mobile phone. These maps are much less accurate, but still very useful if you don't find an internet connection nearby!
Mistakes that are often made during solo travel
You learn from your mistakes. And although it's sometimes good to make mistakes so that you never forget them, it might be a little better to learn from the mistakes that others have made. Here are some mistakes that are made often by your fellow solo travelers, so that you shouldn't make them.
Don't be too ambitious in the beginning and at the end
Your first hours at a new destination are often the most vulnerable. Not only is the destination quite mysterious still, but you'll also often carry a lot of luggage. Please take the time to adjust to the destination and make sure you haven't made an appointment or scheduled a tour too soon. That will also give you a lot less stress in the case that your flight is delayed. The same counts for the end of the journey, where you obviously don't want to miss your flight. You may want to stay a bit closer to the station or airport, so that your last night at your destination can be with a peace of mind.
Make sure you always have extra money
If you have no more money and you have no way of getting any more, your vacation will soon be ruined. Especially when you're travelling by yourself… Getting a free night or ride can be fun if you're traveling in a group, but you should probably avoid it when you're traveling alone.
Don't ignore potential danger
Solo travel involves a greater risk than traveling in a group. If your gut feeling warns you about a particular situation, don't ignore it and change your plans.
Don't forget to make bookings
Standing in a long line isn't fun, but being alone in a long queue is still a lot worse. If you're planning to visit some museums or other sights, book your tickets in advance. That way you avoid long queues.
Great websites to do this are GetYourGuide, Viator and Tiqets.
Don't make it too difficult for yourself
As a solo traveler you often want to spend as little as possible but still enjoy as much as possible. Sometimes you have to pamper yourself a little extra, because you're still on vacation. Climbing on public transport with a heavy backpack for example, isn't really fun… Especially if you don't have a seat.
Come to your destination early
Arriving in a new city in the dark… It always has something scary. Make sure that your flights are booked so that you arrive at your destination during the day.
Don't use public WiFi without security
We can't live without Wi-Fi nowadays and although you'll find this in almost every restaurant hotel or public place, you'd better watch out. Using an unsecured Wi-Fi network allows hackers to steal your personal information. Often it won't get this bad, but if you have just used your credit card to book your next night it might cause some issues… Using a VPN can be a great solution.
Drink responsible
Going out on your own while travelling alone can be a great way to get to know new people. However, pay attention to the amount that you drink. You simply don't want to be waisted in a place that you hardly know with no one that keeps an eye out for you.
Don't pay too much for something
If something seems too expensive for what it is worth, do not be afraid to negotiate. In most countries they quickly recognize the tourists and they will try to make you pay more than necessary. Most travelers do not dare to negotiate and therefore pay too much.
How safe is traveling alone?
Is going on vacation alone safe? Experienced backpackers will gladly say yes, while others only will see the dangers. The safety of solo travel depends mostly on yourself. Prepare well, know where the dangers are and what areas to avoid and you already have come a long way. Here are some more tips to ensure that your solo trip will be safe.
Don't show your wealth
Even if you barely have money on your savings account, if you can travel you're already a 'rich person' in many countries. Smartphones, laptops, ipads and photo cameras may be items that pretty much everyone has, in countries like Thailand, Indonesia or Kenya that's not the case. Don't walk out with your valuables when you leave the hotel. Or at least put them in a backpack.
Leave the valuables that you can miss at home
Do you really need that laptop or expensive sweater when traveling? Leave your expensive stuff at home if you think you can miss it. This way they can't be stolen or lost while traveling alone. If you prefer to take these items with you, make sure you have a locker in your hotel room or youth hostel.
Make sure your valuables are stored properly
Keep your expensive items in a safe place. Pickpockets are everywhere so you better make sure they're having trouble trying to steal your stuff. Don't put your money in your back pocket, but keep it a little closer to the hand so that you're always aware of it.
If you're staying in a youth hostel, always check whether there are lockers. That way you immediately have to worry less.
Save copies of important documents
Losing your laptop or smartphone is bad. But nothing is worse than losing your passport or visa if you're on vacation alone. Yet these situations can occur… So make sure that you have some copies of your important documents or have a back-up on Google Docs.
Notify the home front
Are you planning to retreat to the wilderness or make a multi-day trip? Provide regular updates of your travel plans friends and family back home. If you suddenly disappear from the radar, at least someone knows what you were planning or doing.
Learn something from the local language
Travellers who leave on a solo holiday are an easy target for corrupt officials. In some countries they dare to charge you extra costs because you're an easy victim. However, someone who can defend themselves in the native language will quickly be left alone. In the worst case, you can still ask a bystander who speaks the local language to help you.
Of course you can always download a translation app on your smartphone. Some even have the possibility to do offline translations.
What should you do with concerned parents / friends?
Convincing yourself to travel alone can be a serious challenge, but what about caring parents and family?
Find the right timing to tell them your plans
If you know that your father has little time over the next weekend, and your mother is difficult to approach in the morning, then it's best to find another time to tell them your big plans. You have the advantage of knowing your parents the best, and thus you can easily find a good moment for your 'presentation'. Plan this a few months before you leave, at a moment that you're already well prepared.
Be well prepared
Telling someone that you will be traveling alone will raise a lot of questions. Make sure that you have already planned your trip well and that you can answer all of their questions immediately. If they notice that you're well prepared, they will more easily let you go. Make it clear to them that you already know how you will finance your trip and that you know what to expect.
How ultimately you're never really 'alone'
Travelling the world can be a very frightening thought for worried parents. Put the emphasis on the fact that you're never really 'alone' and that you'll quickly get to know new people.
Don't ask for permission
Showing your parents your plans to travel alone is not the same as asking for permission. Make sure that it's immediately clear that you're not asking for permission, but that you're only informing them.
How you will keep in touch
The most important thing for your parents and family will be the way you can keep in touch. Every update you can give them while you're on the road is a new reassurance. Explain to them the different ways in which you will keep contact. Whether it's through a blog, whatsapp, facebook or skype.
Why on earth would you go on holiday alone?
If going on vacation alone is such a big challenge, why on earth would you want to go on a solo trip anyway? Well, here are some reasons why it's at least worth considering.
Easier to plan
Planning a trip for one person or planning a trip for an entire group. In terms of logistics, it's a huge difference. If you plan your travels according to your own wishes, you'll encounter fewer obstacles such as the choice of destination, accommodation or even activities.
Finish your own bucket list
Traveling in a group means taking into account the wishes of your fellow travelers. Anyone traveling alone can easily complete their own bucket list. During your entire journey you can do what you want.
Get to know new people
Traveling with people you know will make it harder for you to look for new people outside of your circle of friends. If you're going to travel solo, on the other hand, you'll need to do a little more effort to get to know new people.
Leaving your own comfort zone makes you more independent
Planning a solo holiday makes you leave your comfort zone. You'll have to make all decisions on your own, and any problems you have must also be resolved by yourself. During your independent travel you'll become a lot more independent. This will be the case for your future travels but also on a personal level.
It becomes the experience of your life
Travelling by yourself is an experience that you'll always remember. Certainly the very first time that you go on a holiday by yourself will give you stories that you'll always keep telling your other friends. Through social media you can also always stay in touch with friends who you have met on your journey. That way you also know what'ss happening on the other side of the world. Isn't that great?!
Do you have any more tips or nice stories from your (first) solo trip? Or do you still have a few questions? Let me know in the comments!
Did you like this article? Then please give it 5 stars. Thanks!
In this article you'll find a few affiliate links. When you book something with these travel organizations, I get a small commission. You don't pay anything extra for that. You can thus see it as a way to support this blog if you found the information helpful. I use all of these travel organizations myself, and I will only recommend the ones that I really like.
Are you following me on Social Media?
---
Hi, I'm Sam Van den Haute. The last three years I've been traveling the world almost constantly. Heading out for an adventure and visiting the most beautiful places are what I love to do! Let me inspire you with great stories, beautiful pictures and handy tips from my adventures and travels. On my facebook page and instagram account you'll get to see the latest updates and photos to inspire you for your next vacation.

Come join us and get the latest updates!
Like Checkoutsam on Facebook