Tip: Buy skip the line tickets for the same price you'd pay on the spot
A monument like this in one of the most-visited cities in the world obviously attracts a great number of tourists. Because of this, people have to wait in line -without exaggerating- sometimes for hours on end. To resolve this issue, it is strongly advised to already buy your Sagrada Familia tickets online. Through Ticketbar, tickets are equally priced as when you buy them on the spot, but you no longer have to wait in line!
The guided tours on GetYourGuide will also give you a skip the line ticket (and a guide of course). This option offer also the advantage to cancel your tickets for free up to 24 hours in advance.
Are you planning on paying a visit to more sights in Barcelona? Be sure to buy a Barcelona City Pass from the start. This includes a skip the line ticket to the Sagrada Familia, Park Guell and discounts to a great number of other attractions. You also get free airport transportation and a hop-on, hop-off bus pass.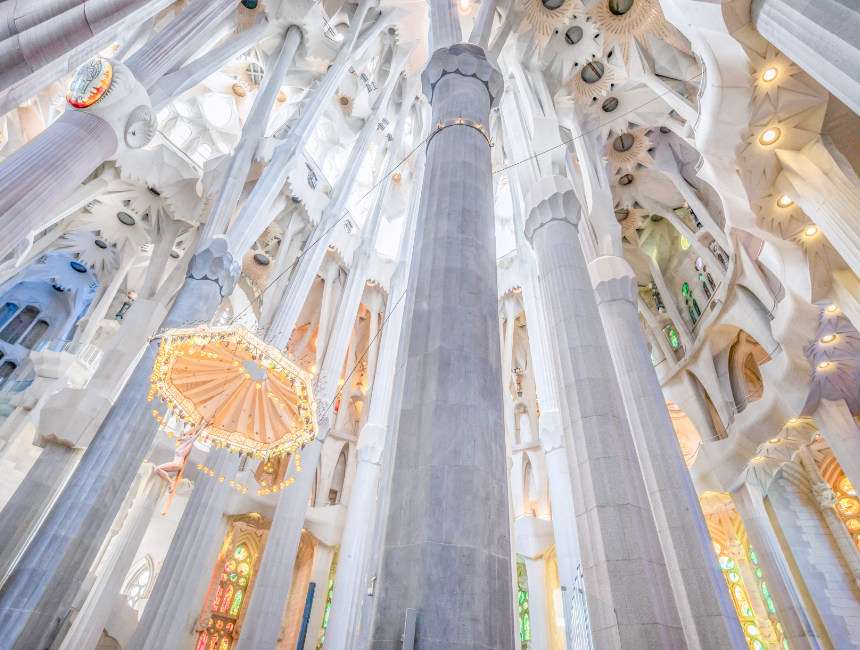 A short history of the Sagrada Familia
For the actual "beginning" we have to go all the way back to 1866 when a certain Josep Maria Bocabella i Verdaguer had the divine revelation to found the Associació Espiritual de Devots de Sant Josep (The spiritual Assocation of worshippers of Saint Joseph). As you can see, the good man was quite fond of long names.
In 1874 this group of religious people started to campaign to finance the construction of an Expiatory Church, which would be devoted to the Holy Family. Seven years later they finally collected the necessary funds and they bought a piece of land of 12,800 square meters.
On March 19 1882 (Saint Joseph's holiday) they laid the first stone and started building a crypt underneath the apse, following a neo-Gothic design. The chosen architect was Francisco de Paula del Villar y Lozano (maybe because of his long name), but he had a quarrel with the developers and decided to resign. His successor was no-one less than Antoni Gaudi.
Because donations were accumulated slowly in the beginning, the construction was delayed on a regular basis. When however, an incredibly generous donation arrived, Gaudi decided to go in a completely different direction. He dropped the neo-Gothic model and chose for a more monumental and innovative design concerning shapes, building techniques and structures. And so begins the history of the Sagrada Familia (and not the Segrada Familia like some people write it).
At this point, Gaudi was something more of a mad scientist, becoming more and more obsessed with this big church in Barcelona, and in 1914 he decided to devote his time exclusively to its construction. In turn, this would explain why he took no notice to any other important building projects from that year on. He also chose to bid adios to his nice house in Park Guell and moved to a cottage right next to his workshop in the Sagrada Familia.
Gaudi worked like there was no tomorrow, and finally in 1923 finished the final design of the basilica. Unfortunately, the construction didn't go quite as smoothly; it was only in 1925 they completed the first bell tower. This 100-meter tower would sadly be the only tower that Gaudi could admire himself, because on June 10 1926 he lost his life in a tragic accident when he was hit by a tram. Two days later he was already buried in the crypt of the Sagrada Familia, where he "remains" until today.
TIP: Are tickets sold out? Book a guided tour!
Certified ticket vendors such as GetYourGuide, TicketBar and Tiqets buy up tickets months in advance, which is why they always have some Sagrada Familia tickets left. With or without a guided tour.
Why does the construction of the Sagrada Familia take so long?
As you read above, this mostly has to do with funding. Also after Gaudi passed away they were strapped for cash and to make things worse, a part of the Sagrada Familia was destroyed in a fire. The original blueprints and a couple of scale models were unfortunately lost as well, however, the later developers boast that they've always respected Gaudi's original plans.
The following years, they actively collected money and the construction of the Sagrada Familia proceeded slowly, yet steadily. By buying a ticket you also help the construction advance, so…What are you waiting for? Get your Sagrada Familia tickets already online.
Over the years different architects worked on the project, and they were each able to leave their own mark. This of course results into a fantastic and unique building, which is unparalleled.
Are you curious what it will eventually look like? In this video clip you can see the final result:
Sagrada Família: Visualisation of the Finished Basilica
So what will be the completion date of the Sagrada Familia?
On March 19, 2017 they celebrated the 135th anniversary ever since the first stone of the Sagrada Familia was laid. At the moment around 70% of the basilica is completed and they are mostly working on the six central towers. By 2026 the completion of the Sagrada Familia should finally be a fact.
A visit to the Sagrada Familia: the main sights
You might think: 'Is it actually worth it to visit a building that isn't even finished?'
To that question I can wholeheartedly reply 'yes'. Even unfinished, the Sagrada Familia is a miracle of architecture. Gaudi was also aware that the construction would take quite some time, that's why he chose to focus on completing the front of the church. That way future generations already had something to enjoy.
A visit to the Sagrada Familia consists of two parts: one of no cost and one of paid access. For the paid access option, I advise you to buy skip the line tickets. These cost the same through Ticketbar as on the spot (€17 per adult, €15 for -30 years and free for kids up to 11 years, but keep in mind that kids also need tickets!), and they will allow you to skip all the waiting lines. Sometimes, it's even possible that you need to wait for a couple of hours in these lines! For this case, it's not a bad idea to take some precautions…
The exterior can of course be admired for free.
Exterior of the Sagrada Familia
Concerning the exterior of this marvellous building, there are three important facades.
Firstly, there's the so-called "Nativity facade", which depicts the birth of Jesus Christ. This was built between 1894 and 1930 and is the only facade which was nearly completed in full when Gaudi was still alive. The grandmaster mostly considered this facade to be a symbol of life and creation. You'll notice this when seeing how lavishly decorated the facade is with animals and symbols, such as the Tree of Life amongst other things.
There are also three entrances representing the theological virtues; Hope (left), Charity (central) and Faith (right). There are four bell towers as well, which are devoted to Saint Barnabas, Saint Simon, Saint Matthew and Saint Judith.
We also have the Passion facade, which is all about the Passion of Christ. Its construction started in 1954 and was finished 22 years later. For the design they found inspiration in Gaudi's drawings, who especially wanted to provoke fear with its outlook. You'll find that reflected in the simple decor, containing very few ornaments. 
Finally, you can admire the facade of Glory which will be the largest as well as the most important of the three, mostly because it also gives you access to the central nave of the church. They only began its construction in 2002, and it soon should be completed. This facade revolves entirely around the heavenly glory of Jesus and will depict his rise to heaven.
Interior of the Sagrada Familia
Of course there's also the inside of the Sagrada Familia for which you have to pay (€17 for speedy access, €39 for a one hour and a half guided tour). I can however assure you that it's worth every penny. It truly would be a shame to only visit the outside of the Sagrada Familia and miss out on its marvellous interior.
Right when you head inside, you'll notice –typical for Gaudi – that there are no straight lines, and that everything was built with the goal to imitate nature. This is a characteristics of modernism, the architectural movement to which Gaudi belonged.
This was aimed at incorporating nature as much as possible, hence Gaudi's efforts in making the inside of the Sagrada Familia look like a forest. The pillars do resemble trees, so you'll straight away see that he's succeeded in his attempt.
The stained-glass windows will immediately catch your eye, and if you're fortunate enough to visit the Sagrada Familia on a sunny day, the resulting light show will enchant you. That way a visit to the Sagrada Familia truly becomes a magical experience.
There is so much to tell about the interior of this Gaudi church, that I strongly recommend you to visit the Sagrada Familia accompanied by a guide. The added benefit of this is that you won't have to spend hours waiting in line and can make your way inside straight away to enjoy all this beauty.
Visiting the crypt of the Sagrada Familia
The good news is that you can also visit the crypt of the Sagrada Familia, the bad news is that it's only possible during hours of worship. There is however, additional good news, because it's perfectly possible to attend mass in the Sagrada Familia. On this handy website you can consult the hours, (and dates) of the church services and then you immediately know whether or not you can admire the crypt.
The major attraction here, is the tomb of the master architect Gaudi, where you can pay your respects.
Furthermore, there's also the sculpture of the Annunciation, as well as a central altar and four chapels that are devoted to the Virgin Carmen, Jesus Christ, the Virgin of Montserrat and Jesus on the cross.
The floor of the crypt is decorated with a Roman mosaic depicting wheat and vines.
You don't have to pay extra to visit the crypt of the Sagrada Familia, so you can just get in there using your regular entrance ticket. Although I do strongly urge you to buy a fast track ticket to the Sagrada Familia so you won't lose any precious holiday time waiting in line. You pay the exact same amount as you would at the counter (€17), but now you get to pick the time of your visit. That way you get to skip all the waiting lines on the agreed time.
Visiting the museum of the Sagrada Familia
As early as one month after Gaudi's passing away (in 1926 you'll recall), they already had the idea to create a museum where Gaudi's work would be on display. His former workshop was the chosen location for the project, but after a fire broke out in 1936 they were forced to change its locality.
It wouldn't be until 1961 before the museum was finally inaugurated and this time the chosen location was a sort of basement underneath the Passion facade and above the crypt (which can be seen through a window in the museum).
In the museum you can marvel at the remaining blueprints, historical photos and scale models. As you might already know, Gaudi preferred to work with 3D models instead of really detailed drawings or making plans.
A visit to the museum is absolutely worth your while, especially if you know that it's included in your ticket for the Sagrada Familia.
Visiting the Sagrada Familia towers
When designing his legendary big church in Barcelona, Gaudi had eighteen monumental towers in mind. Twelve of them are devoted to the twelve apostles and these are placed on the three facades of the Sagrada Familia. The other six are in honor of the four evangelists, the Virgin Mary and Jesus Christ. Out of the eighteen towers only six have already been finished: four of the apostles on the Nativity facade and four of the Passion façade. The highest will be the one that's devoted to Jesus Christ, on top of which there will be a gigantic cross standing at a whopping 170 meters.
Although they are yet to be completed, you can already visit a couple of towers of the Sagrada Familia.
You'll need a separate ticket for this, because it is not standard included in your tickets to the Sagrada Familia.
You can choose to ascend the tower of the Nativity facade, where you'll have a view of the eastern part of the city and thus can see the sea as well.
An on the spot a ticket will set you back €32, but if you want to skip the waiting lines I advise you to buy Sagrada Familia fast track tickets. They cost the same (€32), but you are given an allocated time for your visit. You can purchase these tickets through TicketBar and Tiqets.
Or you can opt to visit the tower of the Passion facade, from where you'll have a splendid view of the city center of Barcelona (also for €32 and skip the line tickets available as well). Of course you can also purchase a combination ticket and visit both towers.
As you see it is therefore a smart idea to buy your Sagrada Familia tickets online, this doesn't only allow you to visit the towers, but it will also give you fast access to the basilica itself and you don't have to wait in line!
Note that there is an elevator to take you upstairs and afterwards you'll go down using the stairs. Because the Sagrada Familia towers are quite narrow at times, they are only accessible to kids who are at least six years old.
Which of the two Sagrada Familia towers you have to choose naturally depends on your personal preference. As I've already mentioned above, you get different views. Actually I do advise to visit them both, but if you only have time for one, it is good to know that most photographers recommend the tower of the Nativity facade. Anyway, a visit to the Sagrada Familia isn't complete without having seen at least one of the towers. Not only do they open to a wonderful panoramic view, but they also give you the opportunity to have a look at this fantastic big church in Barcelona from up close.
Tip: Want to skip the long waiting lines?

Buy your Sagrada Familia skip the line tickets through Ticketbar or Tiqets: the price is the same as you'd pay on the spot for a ticket to the Sagrada Familia, but they allow you to skip all waiting lines!
Tickets to the Sagrada Familia
Don't bother buying tickets for the SEGRADA Familia, because unlike what some people think, the actual spelling is Sagrada Familia.
This big church in Barcelona attracts three million of visitors per year, which makes it the most popular sight of the Catalonian capital. If you also want to pay a visit to the Sagrada Familia, I strongly urge you to book your tickets online. Unless your prefer spending many hours waiting in line, it's also advised to buy skip the line tickets as well, or even better: fast track tickets for the Sagrada Familia. To ensure not too many people visit this Gaudi church at the same time, only a limited number of visitors are allowed inside the Sagrada Familia. You can book your tickets up until two months in advance, though it is best to do it at least five days before your visit to the Sagrada Familia.
Have all tickets been sold out? Opt for a guided tour. They almost always have some tickets available. In addition, you also get a very interesting tour on the spot as well!
Furthermore when it comes to tickets, there's quite a few possibilities and the price depends on what it exactly is you want. Here you will find the different kinds of tickets to the Sagrada Familia:
You can buy your entrance tickets to the Sagrada Familia on the spot or through certified partners such as TicketBar, GetYourGuide or Tiqets. There's no such thing as a discount code for the Sagrada Familia, but a Barcelona City Pass is cheaper in the end and gives you skip the line access to the Sagrada Familia as well.
Children under eleven and people with a handicap can get in for free. For students, people under 30 and over 35 there are discounts.
Whether you buy tickets for the Sagrada Familia with or without a guide depends on you. There are of course audio guides, but I often find these pretty generic and not that interesting. If you like to learn a little bit more to fully understand this magnificent building, I'd opt for a guided tour. If you're not that interested in history and fun facts, you can just buy tickets for the Sagrada Familia without a guide and freely walk around by yourself, but that actually would be a shame.
When is the best time to visit the Sagrada Familia?
As I've mentioned above, the inside of the Sagrada Familia is unrivalled when the sun shines through the colorful stained glass windows. In the middle of the morning to afternoon, until the late afternoon the sun is shining directly through the windows.
The sunset also makes for a beautiful light show, although you'll need a clear sky to fully enjoy it. Besides, it's also an excellent time to avoid the crowds.
Opening times Sagrada Familia
March: 9 AM to 7 PM
April to September: 9 AM to 8 PM
October: 9 AM to 7 PM
November to February: 9 AM to 6 PM
25 and 26 December, 1 and 6 January: 9 AM to 2 PM
The crypt of the Sagrada Familia can be visited during hours of worship: during the week this is at 9 AM and 8:15 PM. The crypt is open from 9 AM to 10 AM and from 6 PM to 9 PM. In the weekends and holidays there are additional masses, it is best to consult this website to be certain.
Wear appropriate clothing in the Sagrada Familia
Just like in any other church, you can't wear caps or hats (unless these serve religious or medical purposes) inside. Also make sure that your shoulders, back and mid-drift are covered. Shorts or skirts should reach to halfway up your thighs. Translucent clothing is forbidden, as is entering the church barefoot.
Attending mass in the Sagrada Familia
Earlier you could read that you can only visit the crypt during hours of worship and you actually can attend mass in the Sagrada Familia every Sunday. It starts at nine in the morning, is being conducted in various languages and lasts for about an hour. Spots are limited, so it is best to get to the entrance at the Nativity facade before a half past eight.
During special church holidays there are also masses and you can check these times here.
Some fun facts and numbers about the Sagrada Familia
The total length of the Sagrada Familia is 120 meters and its height is 90 meters. This is about the size of a soccer field. It has a surface of 4500 square meters.
Up to 14,000 people can get in this gigantic church in Barcelona.
As you could read before the highest point will be 170 meters and this is just a couple meters lower than the Montjuïc hill. Gaudi did this out of respect for God.
When the completion of the Sagrada Familia will effectively be a fact in 2026, they will have been working on it for a whopping 144 years. To put it in perspective: to build the Taj Mahal and the great pyramids in Egypt they only needed around twenty years at the time.
Earlier I mentioned that the Nativity facade consists of three parts. For the statues on the portal of Mercy Gaudi used death masks of late citizens of Barcelona and the laborers who had worked on the church. This way he was able to pay them respect.
Originally the Sagrada Familia was a church, but in 2010 it was consecrated by Pope Benedict XVI and ever since it officially is a basilica.
Earlier you could read that a certain Josep Maria Bocabella was the spiritual father of the Sagrada Familia. What you might not now, is that the good man was a book seller who got the idea after visiting the Vatican. Upon seeing so much ecclesiastic beauty he wanted to realize a similar thing in Barcelona and the rest is history.
By now you've probably been wondering who is paying for all of this. Annually the construction of the Sagrada Familia costs about 25 million euros and they make this through tickets sales and donations by generous benefactors. One more reason to buy tickets for the Sagrada Familia, because that way you help building it!
'Familia Sagrada' is Spanish and Catalan for 'Holy Family', which refers to baby Jesus, the virgin Mary and Joseph.
Some other buildings by Gaudi in Barcelona that you cannot miss
Do you want to see pictures or discover all of Gaudi's buildings in Barcelona? Definitely read this blog post then.
The first other building that people associate with Gaudi, funny enough, isn't a building but a park. We are of course talking about the phenomenal Park Guell. It was commissioned by count Eusebi Guell and a wonderful example of modernism, as well as the place where Gaudi perfected his unique style.
It is mostly characterized by the trencadís (surfaces covered by irregular pieces of ceramics) which you will find all over the park. Apart from the iconic salamander (or dragon), the magnificent terrace with an astonishing view over Barcelona and the famous hypostyle hall, there are many other wonderful sights to be discovered here as well. A skip the line tour of Park Guell combined with a visit to the Sagrada Familia therefore can't lack in your program. Do you want to read more? Check out this blog post.
Casa Milá or La Pedrera is another famous building by Gaudi. It looks pretty rough, which is why it was given the nickname 'quarry'. The facade will already blow you away, but the absolute pièce de la résistance is and always will be the fantastic terrace. This UNESCO Heritage site is also particularly popular with tourists, so a fast track ticket to Casa Mila definitely isn't an unwise investment. Also here they cost the same online as at the counter, but they do allow you to skip all the waiting lines.
Casa Vicens is Gaudi's very first (important) building, and apart from that it's also one of the finest examples of art nouveau architecture. It was commissioned by a rich family who owned a ceramics factory and that is where Gaudi found inspiration for his famous trencadis technique.
Fans of the renowned architect therefore cannot miss out on Casa Vicens. If you're interested in tickets, you can already buy them here.
In 1904 Gaudi was given the assignment to renovate an ancient house and Casa Batlló is the brilliant result. Ceramics, stone and iron are melted in this modernist mix, where you'll find hardly any straight lines. Also the facade with trencadis is downright marvelous. You can by the way visit this Gaudi building with a so-called smart guide, an augmented reality video guide of 45 minutes.
If you would like to admire the most conventional building that was ever made by Gaudi, you should head out to Casa Calvet.
Because it as it were had to be squeezed in between other buildings and because it was located in an extremely elegant neighborhood, Gaudi had to hold/held back. You will see a remarkable amount of balance, symmetry and order, which is why you may not even realize that it was created by Gaudi at first.
One of the most fun and interesting things to do in Barcelona as a matter of fact is a real Gaudi tour, during which you will explore his most important creations (including the Sagrada Familia) accompanied by a professional guide and at most fourteen other travelers.
Three nice hotels around the Sagrada Familia
If you would like to spend the night near this iconic basilica, firstly you need to know that fantastic location comes at a price and that you'll need to pay at least hundred euros per night for a good double room. If this doesn't pose a problem, here you will already find three nice hotels around the Sagrada Familia:
Eurostars Monumental
This design hotel is located on 400 meters from the Sagrada Familia and has particularly elegant rooms. For a double room you'll pay at least 108 euros, if you want a terrace and a view of Gaudi's masterpiece with it, it will cost you at least 184 euros.
Ayre Hotel Rosellón
How does a luxury hotel with a panoramic rooftop terrace that directly overlooks the Sagrada Familia sound? This hotel has it all. Besides, it is barely 200 meters from this world famous big church in Barcelona. You'll typically be looking at around 225 euros for a double room, but thanks to promotions you can sometimes score one for 155 euros!
Boutique Hostemplo Sagrada Familia
Even closer to the Sagrada Familia you will find this boutique hotel, that is barely 100 meters away from Gaudi's church. And yet the surrounding area is extremely peaceful and quiet. A standard double room costs 213 euros (and at times not even 150 euros!), if you want the deluxe version then you'll pay 330 (or sometimes 200) euros.
Just a few more tips for your visit to the Sagrada Familia
Tickets for the Sagrada Familia are not included in the Barcelona pass! Are you however planning on visiting a lot of sights in Barcelona? Get yourself the Barcelona City Pass. Included you will find a fast track ticket to the Sagrada Familia (and Park Guell), but also free airport transportation, tickets for a hop on/hop off bus and over 20 other activities and attractions in Barcelona.
Take your time! There is so much to see in this basilica. Do pay attention to the magnificent details and don't go too quickly. An hour and a half is over before you know it! To also visit one of the towers, it is best to add an additional 30 minutes.
Avoid waiting in line with a fast track ticket.  Fast track tickets cost the same as tickets on the spot. However, you don't have to wait in line any longer, but you are given an allocated time for your visit. Just be there on time and you can skip all waiting lines. You can purchase these through both TicketBar and Tiqets.
Order as many tickets as possible in advance. The Sagrada Familia is one of the most crowded sights in the world! Tickets are often sold out a couple of days beforehand. To prevent this it is strongly advised to book your tickets in advance.
No longer any tickets available? Book a guided tour! – Is it impossible to book tickets for the Sagrada Familia because they have been sold out for a certain day/time? Have a look at guided tours. They often book their tickets months in advance, and besides, they make your visit to the Sagrada Familia a whole lot more interesting.
Of course there is so much more to say about this intriguing and unique basilica.
It is definitely worth it to choose for a guided tour and then you can still pick between a short one-hour tour, or a more elaborate tour of 2,5 hours. Real die-hard fans can opt for a Gaudi day, during which you will explore his fantastic buildings for over 10 hours!
Anyway, do buy your tickets for the Sagrada Familia beforehand and preferably the fast track tickets so you won't end up waiting in line with the many other visitors. Especially during those scorching summer months this is everything but fun. And that way you'll have plenty of time to do other fun things in Barcelona.
Do you need more tips? Then also read this elaborate article about the most impressive sights in Barcelona.
City trips to Barcelona
If you thought it was spelled 'Segrada Familia', then in any case I do hope that after this article you'll remember the correct spelling! To see this gem (and many other beautiful sights) in the Catalonian capital, you won't have to spend a fortune by the way! Often, you can find really great deals on the internet. Just have a look at a couple of them:
Did you like this article? Then please give it 5 stars. Thanks!
In this article you'll find a few affiliate links. When you book something with these travel organizations, I get a small commission. You don't pay anything extra for that. You can thus see it as a way to support this blog if you found the information helpful. I use all of these travel organizations myself, and I will only recommend the ones that I really like.
Are you following me on Social Media?
---
Hi, I'm Sam Van den Haute. The last three years I've been traveling the world almost constantly. Heading out for an adventure and visiting the most beautiful places are what I love to do! Let me inspire you with great stories, beautiful pictures and handy tips from my adventures and travels. On my facebook page and instagram account you'll get to see the latest updates and photos to inspire you for your next vacation.

Come join us and get the latest updates!
Like Checkoutsam on Facebook