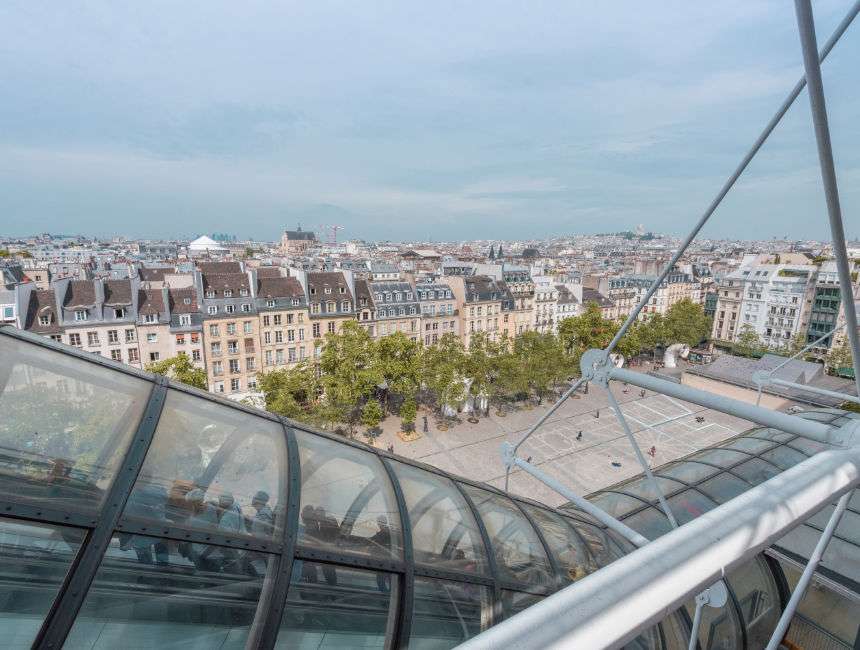 A brief history of the Centre Pompidou in Paris
In 1969 President Georges Pompidou (hence the name) decided that the vacant site of the Plateau Beaubourg should be used for the construction of a new kind of cultural center that could be used for all kinds of purposes. For the first time in France, an architectural competition was organized in which participants from all over the world were allowed to participate. Eventually there were 681 participants from 49 different countries who tried out their luck. Eventually, it was decided that the design of the Brit Richard Rogers and the Italians Renzo Piano and Gianfranco Franchini would win the competition. With their design, they also won the Pritzker Prize, the highest honor in the world of architecture.
The Centre Pompidou wasn't loved by everyone right away. A number of Parisians thought it looked more like an oil refinery than an imposing museum. Nowadays it has become yet another icon in the city of love. Since the solemn inauguration on January 31, 1977, it has been visited by more than 150 million people.
The highlights of the Centre Pompidou
You can just spend your time watching the beautiful and special exterior of the museum, but that would be a shame. Especially because a ticket for the Center Pompidou only costs €14 per person! The inside of the Centre Pompidou is certainly worth a visit. It's perhaps the best museum for modern art in Paris. To facilitate your visit, I would therefore like to give you an overview of exactly what you can see here.
First of all you should know that as in almost every museum, the collection consists of permanent and temporary exhibitions. For more information about the latter you should check the official website so that you know exactly what you can see during your visit.
The permanent exhibition consists of six parts:
The Modern Collection (from 1905 to the 1960s)
This collection consists of more than 7000 works of the visual arts (paintings, sculptures and objects) of 1535 artists born before 1920. This collection is supplemented by 800 anonymous works from the realm of primitive arts. Here you'll find artworks of big names such as Pablo Picasso, Marcel Duchamp and Henri Matisse. Only coming here is already worth the cost of admission!
The Contemporary Collection (from the 60s to 90s)
Art evolves and you notice that in the paintings, sculptures, drawings, photographs and installations that you find here, because in the latter new media become more and more integrated. You'll find the works of 750 artists such as Francis Bacon, Yves Klein and the famous Andy Warhol.
The Photography Collection
The Center Pompidou in Paris contains Europe's largest collection of photos, with more than 40,000 prints and 60,000 negatives. It's one of the few collections in the world that covers the entire history of modern and contemporary photography in all its diversity. You can also visit this collection for free in the Galerie de Photographies.
The Design Collection
Design is particularly interesting because it is a combination of visual art and architecture. In the collection in the Pompidou you can admire more than 5000 pieces from almost 400 designers, of which a quarter is French. There are also a lot of interesting prototypes that never made it into the living rooms, which makes these creations even more fun. Sometimes it seems like you ended up in an episode of The Jetsons.
The New Media Collection
If you know that the Pompidou contains 160 multimedia installations and nearly 2000 so-called multiples (video cassettes, soundtracks, CD-ROMs and websites), it's not surprising that here too the museum is a forerunner. This part of the museum is Pompidou's at its strangest, but also at its most interesting. My personal favorite is to listen to the (wannabe) art hipsters and hear in what genius way they interpret an abstract work of art.
The Cinema collection
Finally, you also have this collection where you can find a lot of experimental films and installations of visual artists. I would advice to definitely not miss the iconic Voyage dans la lune by Georges Méliès. For six euros you have access to only this section.
Opening hours Center Pompidou Paris
If you want to visit this beacon of modern art in Paris, you can do so every day (except Tuesdays) from 11 am to 9 am. The museum is closed on Tuesdays and the first of May. You can enter up until one hour before closing time.
Tickets at Center Pompidou Paris
A ticket costs fourteen euros, which gives you access to the museum and all of its exhibitions.
If you're planning to visit several museums in Paris, you should consider buying a Paris Museum Pass which gives you access to 60 museums and monuments in Paris, including the Centre Pompidou.
On every first Sunday of the month everyone can enter this museum for free! This in fact applies to several museums or other things to do in Paris, so plan accordingly. However, on these free days there are usually a lot of other tourists.
Tips for visiting the Centre Pompidou in Paris
If you prefer to walk around in peace, it's best to arrive after 6 pm. It goes without saying that there are more visitors on rainy days.
You can also enjoy a beautiful panoramic view of the city on the Seine. If the museum doesn't look that interesting to you, you can just pay five euros for a View of Paris ticket.
You need at least two to three hours to visit this hub of modern art in Paris.
Selfiesticks and taking pictures with flash are forbidden.
Four fun facts about the Center Pompidou
This quirky museum is located exactly the same distance from both the Notre Dame as the Louvre.
The reason why the building looks so unique on the outside is because all pipes (plumbing, electricity, air circulation and even elevators) are on the outside. This is unique for Paris. There is a color code for each pipe. Electricity is for example coloured yellow and blue represents the air circulation.
Although the collection of the Center Pompidou contains more than 50,000 works of art, only about 600 are exhibited at a time. The collection is therefore always rotated, although the masterpieces naturally remain hanging.
There is also a Centre Pompidou in the Spanish city of Malaga!
The City of Light has a lot to offer if it comes to many museums, but in terms of modern art Paris the Centre Pompidou is definitely one of the highlights.
Did you like this article? Then please give it 5 stars. Thanks!
In this article you'll find a few affiliate links. When you book something with these travel organizations, I get a small commission. You don't pay anything extra for that. You can thus see it as a way to support this blog if you found the information helpful. I use all of these travel organizations myself, and I will only recommend the ones that I really like.
Are you following me on Social Media?
---
Hi, I'm Sam Van den Haute. The last three years I've been traveling the world almost constantly. Heading out for an adventure and visiting the most beautiful places are what I love to do! Let me inspire you with great stories, beautiful pictures and handy tips from my adventures and travels. On my facebook page and instagram account you'll get to see the latest updates and photos to inspire you for your next vacation.

Come join us and get the latest updates!
Like Checkoutsam on Facebook