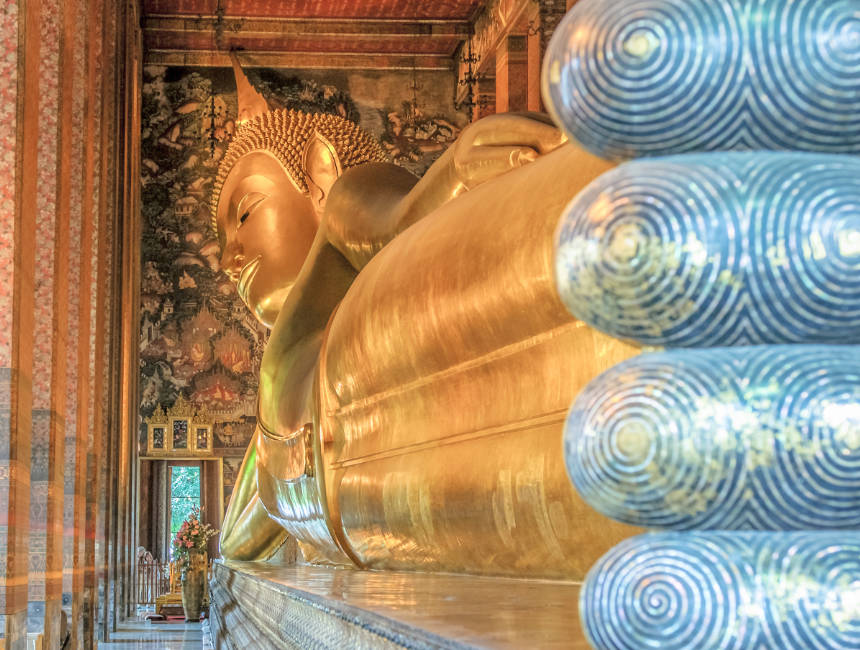 What can be seen at Wat Pho?
Wat Pho is one of the oldest temples in Bangkok and was  built in 1788 by King Rama, even before Bangkok was made into the national capital. The original name is Wat Photaram, of which the name Wat Pho is derived. This refers to the monastery of the Bodhi tree in Bodh Gaya in India. This is the place where people believe that Buddha has achieved enlightenment.
With an area of ​​80,000 square meters (861,113 square feet) Wat Pho is one of the largest temples in Bangkok. You can find more than a thousand Buddha statues here, more than anywhere else in the world. Many visitors come only for the famous image of the reclining Buddha, but that really is a shame. There is so much more to see here. To help you on your way, I give you an overview of the best things to see in the Wat Pho temple in Bangkok.
The golden reclining Buddha
The absolute top attraction of this temple complex is without a doubt the statue of the golden reclining Buddha. This represents the final stage of his illness, just before joining Nirvana, which ends all reincarnations. The sculpture is fifteen meters (49 ft) high and 46 meters (151 ft) long. The core is made of brick that was later modeled with plaster and then gilded. You'll also find 108 bronze bowls in the chapel that represent the 108 favorable characters of Buddha. You'll see that many visitors put coins here because they believe that this brings happiness. Of course you can do this too and by doing so, you also help the monks to maintain the temple.
Phra Rabiang
This double cloister contains about 400 statues of Buddha. If you think that's a lot, you should know that this is only a selection of the original 1200 statues! They come from different periods of Thai history and although they differ, they look very similar. Same same, but different. There are also some comic Chinese statues that will undoubtedly attract your attention. These were originally used as ballast in ships.
Missakawan Park
This small garden is located near the viharn (temple) of the lying golden Buddha and contains the aforementioned bodhi tree where Buddha sat while waiting for enlightenment. There is also a nice pavilion where you can rest for a bit in the welcome shade.
Phra Ubosot
Phra Ubosot is the main hall where Buddhist rituals are performed and also the most sacred building of the whole temple. Inside you can find a gilded Buddha statue above which hangs an umbrella representing the authority of Thailand. Furthermore, you can also admire the epic story of Ramakien, which is portrayed in 150 images. These stone panels show how transcendence can be achieved.
Phra Mondop
This is the hall of the writings that contains a small library of sacred Buddhist scriptures. These are written on palm leaves so that they have to be stored in a special way. This means that the building is not often open to the public. Near the entrance there are however a number of special figures called Yak Wat Pho, or the Giants of Wat Pho. These are quite funny and certainly worth seeing.
Phra Maha Chedi Si Rajakarn
This name is more reminiscent of a Thai dish, but this is not a local specialty. The Phra Maha Chedi si Rajakarn is a group of four large stupas (Buddhist buildings that contain sacred relics). It's no coincidence that there are four, because they are dedicated to the first four Chakri kings. The first (with the green mosaic) contained the remains of the Buddha of Ayuthaya, which was unfortunately robbed by Burmese looters.
Wat Pho and massages
At first glance it sounds like a crazy and perhaps impossible combination: a holy Buddhist temple and a massaging parlour? Remember that you're in Thailand and thus that everything is possible. What many don't know is that Wat Pho is also considered the first public university in Thailand.
Here, thanks to the many murals and sculptures, students can learn more about literature, science and religion. There is also a school established since 1955 that teaches traditional medicine and massages. It's also one of the first massage schools in the country. If you want to relax after a busy day of walking around Bangkok, you can enjoy a relaxing massage here.
Wat Pho tickets
Since a few years, you have to pay if you want to visit the temple complex. Tickets cost 100 baht (about $3 / £2 / €2.5) and you don't have to book in advance. When I was there, I also received a small bottle of water for that price. You'll notice that residents of Thailand can go inside for free, but this applies to every temple in the country.
If you would like a guided tour in Wat Pho and Bangkok, you can arrange a guide for around €50 per person.
Opening hours Wat Pho Bangkok
Wat Pho is open every day of the week from eight o'clock in the morning until five o'clock in the evening. You have an hour longer to get a massage.
Cost of a massage
For a traditional Thai massage you pay 420 baht for an hour and 260 baht for half an hour. For a foot massage, it's the same price for one hour, but for 30 minutes it costs 280 baht. If you want to discover all the secrets of the Thai massage for yourself, you can also take a massage course here. This course usually takes 30 hours, spread out over five days and will cost you at least 10,000 baht.
Seven fun facts about Wat Pho
You'll not only find a statue of the reclining Buddha in Bangkok but also in Myanmar, Malaysia, China, Japan, Indonesia and Cambodia.
Wat Pho is one of only six temples in Thailand that has the honor of being a first class royal temple. It's therefore not surprising that it's also part of the UNESCO World Heritage.
Contrary to popular belief, Wat Pho doesn't have the biggest reclining Buddha in the world. This honor goes to Win Sein Taw Ya in Myanmar, whose Buddha has a length of almost 183 meters (600 ft)!
Meanwhile you have understood that the people of Thailand are crazy about long names, but the original name of Bangkok still defies all imagination. Krungthep mahanakhon amonrattanakosin mahintara ayuthaya mahadilok popnopparat ratchathani buriromudomratchanewet mahasathan amonpiman avatansathit sakkathattiya visnukamprasit. You immediately understand why they chose Bangkok instead…
The full name of Wat Pho is incidentally Wat Phra Chetuphon Wimonmangkalaram. Also quite a tongue twister if you ask me…
Don't forget to wear appropriate clothing! Make sure that your shoulders are covered and that you're wearing long trousers. You should always take off your shoes before you enter a temple.
Because this temple is located so close to the Grand Palace you can combine them perfectly and visit both sights in one day. A nice tip is to take the BTS to Saphan Taksin from where it's only a short walk to the Sathorn Pier. Here you can take the boat (with an orange flag) for only 17 baht, which drops you off at the Grand Palace. A guided tour of these two attractions is also very interesting if you want to know more about the rich history of these monuments.
Be sure to take plenty of time to discover Wat Pho. Despite all the tourist crowds, the atmosphere here is quite relaxed. With every visit you discover something new so the chances are that it won't stay with just one visit!
Did you like this article? Then please give it 5 stars. Thanks!
In this article you'll find a few affiliate links. When you book something with these travel organizations, I get a small commission. You don't pay anything extra for that. You can thus see it as a way to support this blog if you found the information helpful. I use all of these travel organizations myself, and I will only recommend the ones that I really like.
Are you following me on Social Media?
---
Hi, I'm Sam Van den Haute. The last three years I've been traveling the world almost constantly. Heading out for an adventure and visiting the most beautiful places are what I love to do! Let me inspire you with great stories, beautiful pictures and handy tips from my adventures and travels. On my facebook page and instagram account you'll get to see the latest updates and photos to inspire you for your next vacation.

Come join us and get the latest updates!
Like Checkoutsam on Facebook